Your export failed for one or more reasons. There is always a reason why it failed. Below are the posts by others describing their faults and solutions. This tutorial is not a definite tutorial as you may have a unique situation not described in here.
Time Code
After failure to export it may display a time code, make a note of the time displayed and look on your timeline to see what's there that could be causing the problem. It could be a clip, audio or video file, transition.


Export Job Log
The major source you're going to look at is the Export job log. When the job failed it will be in the job's window. At times it may be requested to share "View XML" as well. Right click on the job then View Log.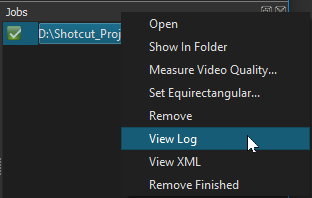 To share with this forum save the Job Log by clicking Save, and name the file. Then you can drag/drop the file into the forum or upload by the Upload icon.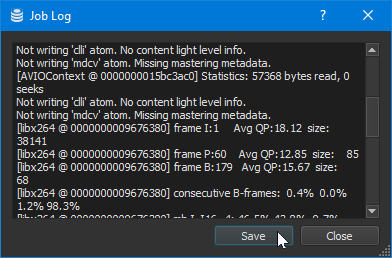 You may not know what to look for, but look at the bottom of the log for clues to what is going on. There may be Exit codes at the bottom of the report.
You can always search the forum with that exit code to find a solution, or suggestions to how to resolve the export failure.
I compiled a list of posts with problems, suggestions, and some solutions. I only went back a few years and even few issues have been resolved with the latest release of Shotcut. Click the arrows the expand the list for each code.
Antivirus

If you're using an anti-virus/malware set the program to approve melt.exe and ffmpeg.exe.
---
Failed with exit code -1073741819

Not Solved
Exit Code 1

Exit Code 1
Exit Code 3

Exit Code 3
Exit Code 11

Exit Code 11

07-22-20 Post: Shotcut 20.07.11 Linux rendering "failed to load producer"
Information offered: Partial Export jog log, Linux 18.3, Shotcut version, proper rights to source file.
Suggestion posted: Works with Ubuntu 20.04 with AppImage or snap. Works with Mint 19 and Ubuntu 16.10 VMs. Current version not compatible with Mint 18.

07-29-18 Post: Crash during exporting video
Information offered: Export job log, XML export file.
Solution from OP: Removed V2 where a JPG image was.
If you can't find a solution that works for you, fill out a new Help/How to post and describe what's going on.
Note: If there are more relevant export fail posts to add I can certainly edit this tutorial to include them.
Insufficient Memory
A common cause of an export failure is running out of system memory. While an export is in process, use the task manager (system monitor, etc) to observe the memory utilization. If the memory is exhausted, the export may fail. See How to Reduce Memory Usage