Introduction
Shotcut does not provide very much in the way of project management at this time. Rather, you are required to manage many aspects of this. There are a few things you should know:
Shotcut saves to a project file in a text format called MLT XML. (Technical detail on that format can be found here.)
The project file does not contain any of your media. Rather, it only links to your media files by file system path and name.
There are 3 different kinds of projects:

Clip
If you put anything in Playlist or Timeline and you open a media file (or generator), then you can save it as a clip-only project along with trimming information as well as filters and their keyframes.
Playlist
If you add some things to the Playlist but not the Timeline, then you have saved a playlist-only project.
Timeline
This is what most people use, but keep in mind it is not necessary to use the timeline. Any of the above can be exported as a final audio/video file!
Project Folder
Shotcut supports the concept of a project folder, which is optional. A project folder is when you create a file system folder for your project and you put project file in there along with whatever companion files get created as well as media files if you choose.
When Shotcut first starts (or after you choose File > New or File > Close), this view appears in the area for the Source player: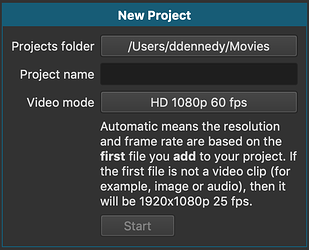 You use this to create a project folder. When you use it, Shotcut creates a folder on the file system with the name in Project name within Projects folder. Then, it saves an empty project with the name in Project name followed by .mlt. Thereafter, companion files that Shotcut creates are saved automatically into the project folder instead of requiring you to name them:
Stabilize video filter
Text: HTML video filter
Properties > Reverse
We encourage you to store all or most of the media files that you use in the project in the project folder. However, Shotcut does not provide a way to copy or move the files into there automatically at this time.
Of course, you can skip using this because it is entirely optional, and the view goes away as soon as you open something. Also, you can create a project folder manually by not using this, but Shotcut then does not provide the automatic naming and placement of the companion files.
Relative vs. Absolute File Names
Shotcut saves MLT XML with file paths and names rather than embed any media. So, it can save these paths in full (i.e. absolute) or partially (i.e. relative). On Windows, a full path begins with a drive letter such as c:. On Linux and macOS, a full path begins with a slash (/). Shotcut saves with a relative path if the file is in the same folder as the .mlt project file or a sub-folder of this folder. It saves with an absolute path otherwise. This means your project file can be a mix of the two; it is determined per file.
There are different schools of thought around which to use. If you use absolute paths, you can keep media where you have it already organized and freely move the project document without any impact. If you use relative paths, you can put everything into a single folder (optionally with sub-folders), and freely move around the project folder. Take your pick; Shotcut does not force you into either one.