Brian said here to make suggestions list for Markers after the beta thread for the last version. So here I am making one.
Some of these I've already mentioned before but I go into more detail on them.
I made a suggestion to be able to select more than one marker for the ability to move more than one around. Dan said that he doubts markers will ever be selectable. Is there really no way to make them selectable so that more than one marker can be moved at a time?

Enable markers to have full snapping capabilities. That means frame and range markers when moved snap to the playhead and also to clips on the timeline. That latter is important because one of the benefits of markers is to indicate where a video or audio clip will be placed later and when that time comes dragging a clip right up to that marker should just snap to it to make placement easy and precise.

Being able to seek to the next or previous marker on the timeline with a shortcut key. I suggested Alt + up/down arrow keys which is already taken by another action but I think that should be changed to remain consistent with Alt being the shortcut key to seek (e.g. seek based on clips, seek on simple keyframes and hold with Shift to drag playhead without mouse button).

Move the color option menu from the Marker Edit menu to the right click menu. Along with this suggestion a possible keyboard shortcut to go directly to the color menu. Something like Ctrl + M when on a marker.

A Delete All Markers option.

Have that choosing a range marker to export has as the default name for export the name of the range marker and not the name of the project. This in case a person is going to export more than one range marker then they don't need to keep typing a new name so that it won't clash with a range that has already has been exported.

How about adding an additional "Each Range Item" as a choice in Export > From in case there is more than one range? No management menu would be needed for this one as it would just automatically export them with the names of the ranges.

The capability to use the marker data to convert to chapter stops. Seeing as chapter stops are based on the start of a chapter and its end is determined by the next chapter then this would be done with frame markers instead of range markers. The two purposes for this are:
Taking the markers' start points along with the names and being able to offer the option of encoding that as chapters to Quicktime and Matroska files. Both Quicktime and Matroska files support chapter stops and it'd be fantastic if Shotcut can offer this. F!nal Cut offers a very similar feature so this is not far fetched.

Converting the markers' start points along with the names into the format that youtube requires (i.e. no milliseconds/frames just hour, minutes and seconds) for it to layout chapter stops on videos. This could be done as some sort of button somewhere like in a management dock that is pressed that would then present a window with all of the chapter listings already converted into the youtube format. The user can then further edit them before coping it the clipboard so they can paste this into the description box for their youtube video to have chapter stops.
There should be rules in order to make the chapter stops idea work. 1) All markers that are to be made into chapter stops must all be of the same color. This to make the rounding up of the markers into chapters very easy. 2) At the very least, the very first frame must have a chapter stop. 3) Chapter stops must have at least 10 seconds in between them. 4) There must be at the least 3 chapter stops. The latter three rules are actually youtube's but it wouldn't be a bad idea to borrow them especially since one of the purposes of this suggestion is for youtube. If these rules aren't all followed then the option to do anything regarding chapter stops won't be available.
And just to add a cherry on top on this, here are the two posts where I first suggested this idea:
and
The first was on September 26th and the other on the 27th. Guess what happened almost a month later when DaV!nc! Rǝsolve released their new version: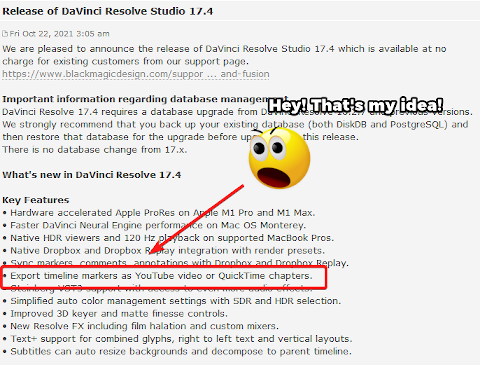 Rǝsolve is on this forum reading my posts, I tell ya!

See, @brian I wasn't crazy suggesting this! Even Rǝsolve thought it was a great idea!
Seriously though, it was a funny coincidence.
Also, I know that there is a Markers dock being worked on which is great! I' going to get a little ahead of it by suggesting a few things:
Assuming that this is being built on top of the current Markers Edit menu, how about a collapse button for the dock that would open the dock or close it to look like the current Markers Edit menu?

A button to extend the markers list to see more markers in the list at a time. Many users will put down a lot of markers and would be appreciated to have the option of having more room to see more items without having to scroll so much.

A search bar option to filter the list down for cases when there are a lot of markers. Either words can be typed to filter via the name or the HTML code can be typed to filter for color.

Ability to hide columns (e.g. Color, Marker, Start, End, etc…) and bring them back.