Hi,
I already had some minor bugs with shotcut but i always found the solution on this forum or on the internet … but not this time.
I am using Shotcut 21.04.13 on windows 10.
Description of the bug :
Everything was working. I made an export (as usual) of a project i was working on. I opened the video and some text were missing and some clips were not croped (i am not sure of this word "crop" in english sorry).
So i checked my project on Shotcut and found that some filters disappeared from some clips. On one clip there were 2 text filters that disappeared. On another clip there was a crop:rectangle filter that disappeard.
capture showing were the filters disappeared from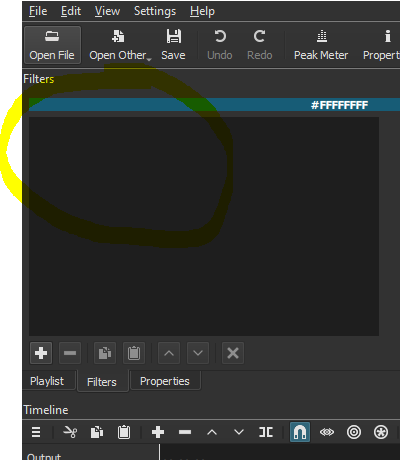 Also : A picture (format : png) is not read anymore : the image is blank instead of showing the image.
To be sure : i tried to open an old project that have the same clips (the ones with text and the one with an image) :and the filters also disappeared from that clip also !
What i did :
I found 2 posts to help me :

The say that gpu rendering might be on. But i checked the regedit (thanks to another post) and under "player" gpu is set to false.
And i never activate gpu rendering myself, i didn't know it was possible to do the render from the gpu
I also tried to uninstall/reinstall 2 times (the second time i also deleted the shotcut directory under %localAppData%\Local\Meltytech) and nothing changed
There was also a post saying to look for "movit" in the mlt file to delete those lines, but there is no "movit" line in my mlt.
Conclusion :
Right now i thing it is related to the gpu, but the gpu key in regedit is set to false… so i am lost.
Thanks for any help !