Similar to Shotcut's videos cannot be uploaded to twitter, I regularly use Windows 10's Xbox Game Bar to capture gameplay and used Shotcut to trim and export using the default, unchanged profile "H.264 Main Profile".
Unfortunately, sometimes, uploading it to Twitter fails with error "Some of your media failed to upload". Example below below: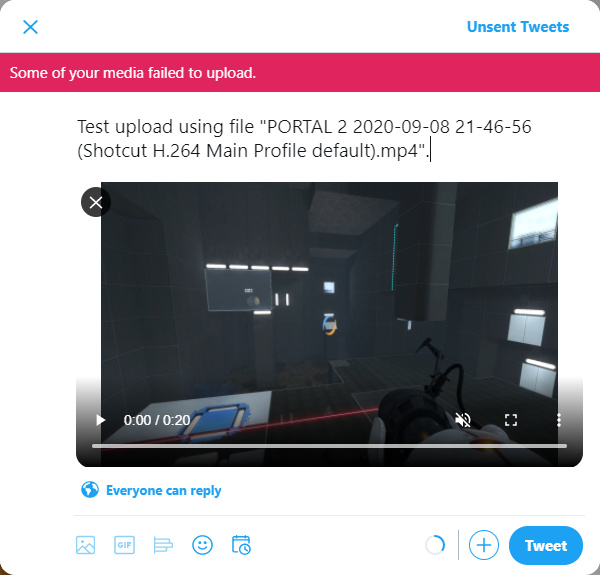 I've had the same problem with videos from other sources and, in those scenarios, I tried uploading from my iPhone, using all sorts of different profiles, etc.
FFprobe version 4.3 reports the following:
"Input #0, mov,mp4,m4a,3gp,3g2,mj2, from 'D:\Users\ben\Documents\Work in progress\Shotcut-Twitter problem\PORTAL 2 2020-09-08 21-46-56 (Xbox Game Bar capture).mp4':
Metadata:
major_brand : mp42
minor_version : 0
compatible_brands: mp41isom
creation_time : 2020-09-08T20:46:57.000000Z
artist : Microsoft Game DVR
title : PORTAL 2
Duration: 00:01:31.93, start: 0.000000, bitrate: 33121 kb/s
Stream #0:0(und): Video: h264 (Main) (avc1 / 0x31637661), yuv420p, 1728x1080 [SAR 1:1 DAR 8:5], 32830 kb/s, 53.83 fps, 59.94 tbr, 60k tbn, 59.94 tbc (default)
Metadata:
creation_time : 2020-09-08T20:46:57.000000Z
handler_name : VideoHandler
encoder : AVC Coding
Stream #0:1(und): Audio: aac (LC) (mp4a / 0x6134706D), 44100 Hz, stereo, fltp, 195 kb/s (default)
Metadata:
creation_time : 2020-09-08T20:46:57.000000Z
handler_name : SoundHandler"
"Input #0, mov,mp4,m4a,3gp,3g2,mj2, from 'D:\Users\ben\Documents\Work in progress\Shotcut-Twitter problem\PORTAL 2 2020-09-08 21-46-56 (Shotcut H.264 Main Profile default).mp4':
Metadata:
major_brand : isom
minor_version : 512
compatible_brands: isomiso2avc1mp41
encoder : Lavf58.45.100
Duration: 00:00:20.50, start: 0.000000, bitrate: 4565 kb/s
Stream #0:0(und): Video: h264 (Main) (avc1 / 0x31637661), yuv420p(tv, bt709), 1728x1080 [SAR 1:1 DAR 8:5], 4305 kb/s, 53.83 fps, 53.83 tbr, 296880000.00 tbn, 107.67 tbc (default)
Metadata:
handler_name : VideoHandler
Stream #0:1(und): Audio: aac (LC) (mp4a / 0x6134706D), 48000 Hz, stereo, fltp, 255 kb/s (default)
Metadata:
handler_name : SoundHandler"