Overlay HTML Filters (O-HTML_F) and wevvfx provide an excellent way of producing movie-style credits. Unfortunately a lot people who would like to use these do not have the necessary competence in HTML and CSS to do so. To help I have produced an online Credits O-HTML-F Generator. The user provides it with a simple text representation of the credits and then selects a few options to style these credits into something more professional looking, then clicks a button to generate the O-HTML-F that will enable these credits to be applied using Shotcut.
The picture below shows an example of the text file and the type of credits that could be produced. The example is a little "over the top" to demonstrate the features available.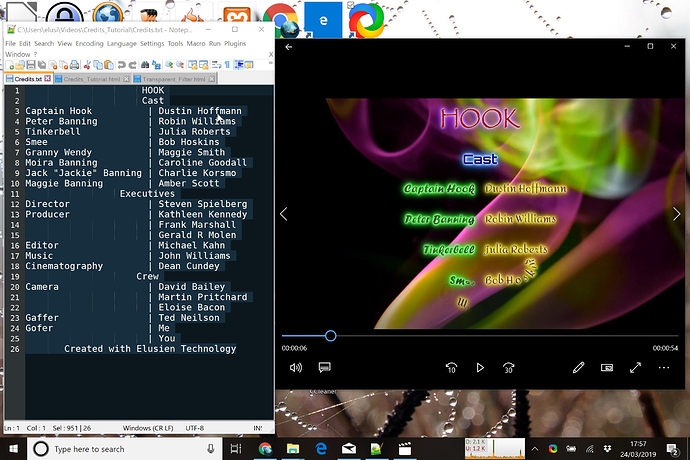 You can access the online video-credits generator from:
It requires the latest version (1.11) of my WebVfx framework and included for download is a set of Google fonts to improve the typography. I have put together a half-hour tutorial on how to create the video credits in a step-by-step approach. This can be seen here:
The final result of this tutorial can be seen here:
Please feel free to use this facility. Judging by the number of queries on the forum about movie-style credits, it should come in quite handy. There is more that can be done and I hope to be able to enhance this facility in the future.