This is the continuation of this topic
---
---
I've played quite a lot with the new visualization filters. Here are some thoughts. Mostly intended to (but not limited to) the Audio Level Visualization filter:
I would like to have the choice of dividing the bars into more segments. A lot more segments.

The Thickness setting would also need to have a higher limit. 20 pixels might not be enough, depending on what you need. Not enough for the 2 examples below anyway. And who knows, some people might want to have huge 500 pixels wide meters.

Same for Segment Gap. The limit is 20 (pixels?). People's imagination have no limit, why would we give them filters with limited boundaries?
As it is, the Audio Level filter is perfect for mimicking Vu-meters with LEDs stacked on their sides, like this:


But what if I want to create meters like these: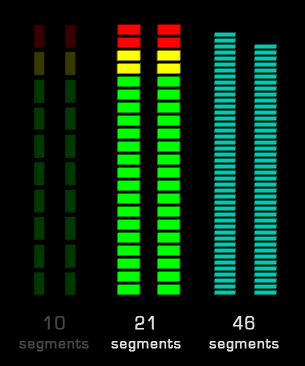 They are quite common. But I'd need as much as 46 larger segments to create the blue VU-meter. Even more segments if I want higher bars with same size LEDs.
Of course, it would be difficult to fit a Graph Color bar with 50, 60 or even 100 color selectors in the filter panel. Not to mention that it would be a pain in the butt and take forever to assign a color to each segment.
But we wouldn't need 100 color selectors. 10 would probably be enough, but let's say we settle for 20 (in case of very long VU-meter bars). Each color selector would apply a color to it's own region of the bars, no matter how many segments are in that region.
As an example, if 10 colors are applied to 21 segments, it would look somewhat like this: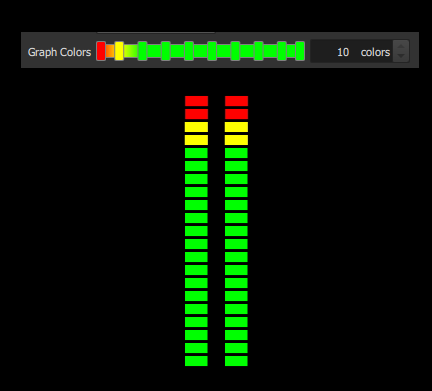 One region of red segments, one region of yellow segments and height regions of green segments.
So in brief, here are my suggestions (most of them applicable to both filters) :
More segments. A hundred? More?.
Wider bars. 1000 pixels? why not?
Bigger gaps
Separate settings for # of colors and # of segments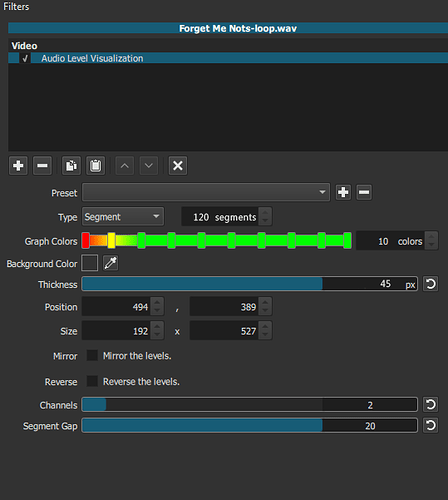 I hope it is possible to implement these suggestions. This would make these filters a lot more versatile in my opinion.