Yesterday I saw an animated text banner in a YouTube video. I thought it was pretty nice, so I reproduced it in Shotcut and saved it as a Clip Preset.
Here's a preview of the result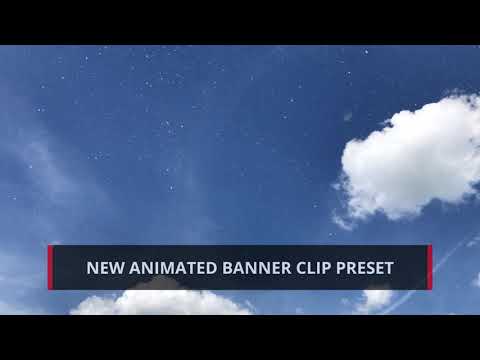 Download the file: AnimatedBanner03-Presets.zip (11.5 KB)
It works on 1920 x 1080 projects and I made versions for 24 fps, 25 fps, 30 fps, 50 fps and 60 fps frame rates. You can use the 24 fps version on 23.98 fps projects and the 60 fps version on 59.94 fps projects.
And each version comes in two length : 5 seconds and 7 seconds.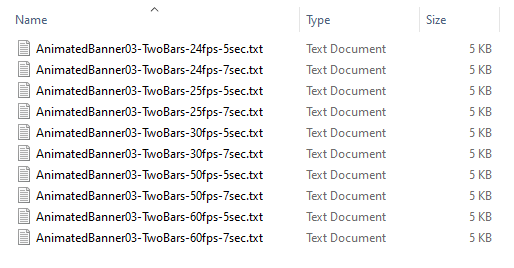 INSTRUCTION
Download the file and un-ZIP it.

Choose the preset you want to use and open it with Notepad (Windows) or TextEdit (Mac).

Select ALL the content and copy it.


In Shotcut:

Select a track.
Move the playhead where you want to drop the clip preset.
In the Timeline tool bar, click on the Paste or the Overwrite button.
You can also use the Append button, bu if there's already one or more clips on the track, the preset clip will be pasted at the end of the track. If the track is empty, the preset clip will be pasted at the beginning of the track, no matter where the playhead is located.

How to edit the clip.
All the clip presets in the ZIP file use the same 6 filters, so they all work the same way.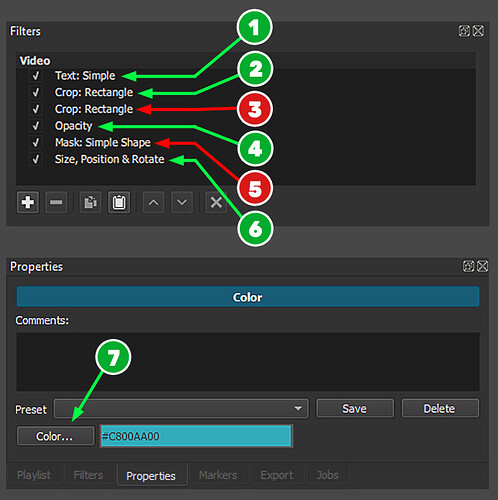 1- Text: Simple filter
Replace the default text by your own text. If needed, you can change the font, the font color and size and add an outline.

Depending on the font used, you may need to adjust the vertical alignment of the text.
Use the vertical Position setting for that.

2- First Crop: Rectangle filter
Use the Padding color tool to change the color of the two red bars.


Do not edit the other parameters of this filter.
3- Second Crop: Rectangle filter
Don't change anything in this filter.
4- Opacity filter
Used to increase or decrease the transparency of the entire banner.
If you don't want transparency, simply deactivate the Opacity filter.
5- Mask: Simple Shape filter
Don't change anything in this filter.
6- Size, Position & Rotate filter
Activate this filter if you want to change the size and/or the position of the entire animation. You can even rotate the banner if you want.


7- Properties
To change the color of the rectangle under the text, go to the Properties panel and edit the color there.