Thank you for the LUTs! I'm sure you have loads of other fans hiding away somewhere…
More than 110 badminton streams in the youtube-channel: badminton-tips Germany.
I have divided all the badminton-exercises into categories on my webpage:
www.badminton-tips.de
2015-2017 cutted with other video-editors. but since 2018 all with Shotcut.
bye,
Ralf
I featured your video and screenshot on Twitter for #TimelineTuesday.

Thanks!
I did not realize I was not following the Twitter account, that's now done

MUSIKVIDEO ●C-TEC - 'She Left' [DvS Re-Arrange Mix 2000]●
I re-arranged the original Track in 2000 of the industrial-ballad 'She Left' which is from the album 'CUT' of the 'Cyber-Tec-Project'.
Singer is Jean-Luc De Meyer a member of FRONT 242.
I recorded the animations from the 'Winamp-AVS'-visualisations and edited it with SHOTCUT.

Hello community,
around 2 years ago I finally bought a GoPro, the model 7 and afterwards I was looking for a reliable video cut solution which as well has not the highest learning curve. And for starters I was and still am very happy that it is open source.
Thank you very much for a nice piece of software.
I found Shotcut and besides my personal videos I do use it as well for my little YouTube channel to support my team Road Runner in Hill Climb Racing 2, basically a racing game for Android and iOS.
Mainly it is cutting, arranging music but also using some filters for split screen action

as comparison of 2 drivers.
Not much more to say. So, if you have any questions about the videos and how I did it, just shoot, here or directly beneath a video.
Thanks for reading!
Hi!
Meanwhile "everyone" knows, that I'm creating my videos with Shotcut, and those, whose not, ask for where to find excellent videos.

Those, whose already know, visit my YouTube channel, where you can find the latest videos from me.
And that is the link to my latest video:
The Base
What awaits you there is, among other things, this: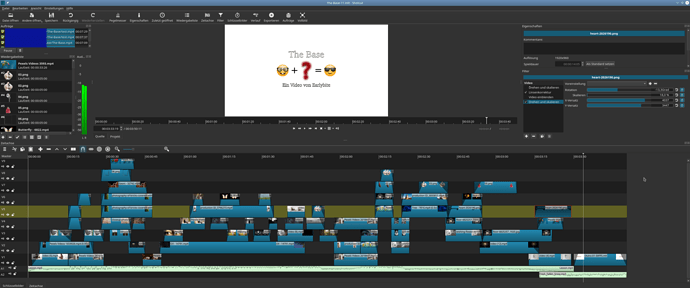 Ok, 'til then…
Made a Few More videos using Shotcut-

The Spring Been One Sunday:

'Til then…

(BTW: Still I'm not sure if it is 'One' or 'A'…)
This music gives me the shivers!
I started using shotcut about 2 yrs ago , the "eu cacand telescoala" video is made with hitfilm express , the rest is made with shotcut
(speaking of hitfilm i cant wait for motion tracking in shotcut)
If your Cars have been unused due to lockdown, here is a golden tip,
Yes the video is made using Shotcut.
I've been playing and reading the Shotcut forum for over a year.
Three months ago I decided to open a channel with basic tutorials for Windows (trying to use open source software, multiplatform) and Android, but not limited to this.
For example, for Android

or this presenting a playlist

And thank you again for this fantastic application.
Here is a funny video that I made. I had fun editing it using Shotcut (of course) I hope you all enjoy especially with the coronavirus going on. https://youtu.be/Du3XQobnKVQ
Hi everyone,
Greetings from Ontario, Canada! I started to make music related videos for our community music group last summer. After searching online for video editors, I've decided to learn Shotcut. Here is the YouTube channel:
And this is the most recent video (playing with Chroma Key):
Car Care tips during Lockdown.
Habe ich mir erlaubt…
'Til then…
Gut gemacht und hat meine Zustimmung, was den Inhalt angeht!