Don't know if it's the same problem as this or not:

That post was about version 17, and this one is version 20.02.17.
I've attached a composite screenshot that shows most of the relevant details.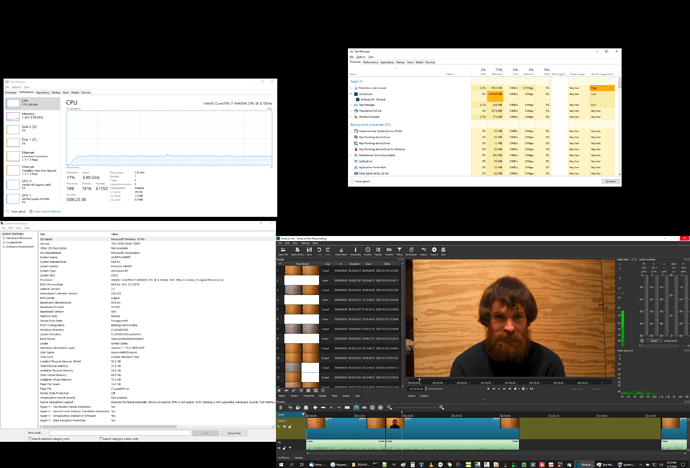 All except the second Task Manager window on the right were captured at the same time, about 60 seconds after I moved the zoom control from all the way out to all the way in. It took about 15 seconds more to finally be done. The second Task Manager window was captured later and pasted in.
All of the video clips are mp4 from my phone, variable frame rate around 28.5-ish with no setting on the phone to change it. I really wish I could make it fixed, but I can't.
All of the audio clips are mono wav at 48kHz, some 32-bit integer straight from the recorder and some 32-bit float from Audacity.
Total size of all source files is 37.9GB.
Project file is also attached.
Shotcut.mlt (44.5 KB)
As noted before, zooming the timeline is slow, and also, moving a clip on the timeline is sometimes slow. (but not all the time) I'm recording the video and audio separately because my phone mic isn't very good, so I need to line up the waveforms and then mute the video. I get it close, then zoom way in for the fine adjustment, and that fine adjustment by one or two frames sometimes takes as long as it did to zoom in. Other times, it finishes immediately, with no apparent connection to the size or complexity of the project.
Similarly, dragging the start and end points (green and red bars) can take forever. Much faster to split and lift than to drag the trim bar, but of course I can't extend that way. Dragging the start of a clip is much worse than the end, with a "Not Responding" hang between the first mouse-drag motion and the clip finally moving, during which I'm just sitting there holding the mouse button down. Once it unfreezes, I can…slowly…painfully…put it where I want it with maybe 0.5 fps update rate. It seems to be better on both ends to be zoomed in all the way while doing it, but still not what I would call "good".
It seems to me that the code is trying to do far more work than is actually required, so is there a setting or technique somewhere to eliminate that work while keeping a GUI-based workflow? The tutorials and FAQ didn't say anything different from what I'm already doing, or at least not that I noticed.