Hi,
I am trying to put scrolling words on a song video.
I have pasted the words (many lines) into a Text:rich filter where I made the displayed size of the text so song-lines scroll to the end.
(see green in picture below)
I added a frame filter to only display 3 lines at the bottom.
All this adjustment is because I found no other way to scroll a long text file of song-lines in the lower part of the screen .
The issue I am having is that I clicked key-frames on the text filter to accelerate or slow down the scrolling with key-frame markers (red markup below):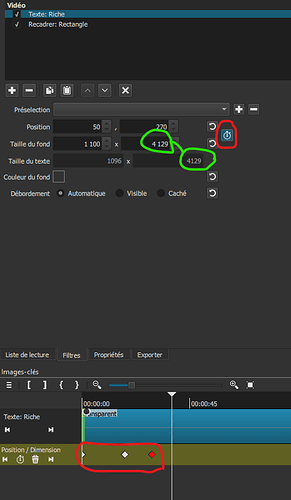 AS SOON as I change focus in the filter window to the other filter (or ANY other click which unfocuses the Text:rich filter) the markers disappear and the key-frame button reverts back from blue to black: all the key-frame info is lost.
Is this a bug ? What can I do to get the job done?
Thanks