Hi,
I Know, I know… I have a 2 core / 4 thread CPU, and with many filters… (no issue!).
But, look at this and this is all the time, what I really meant: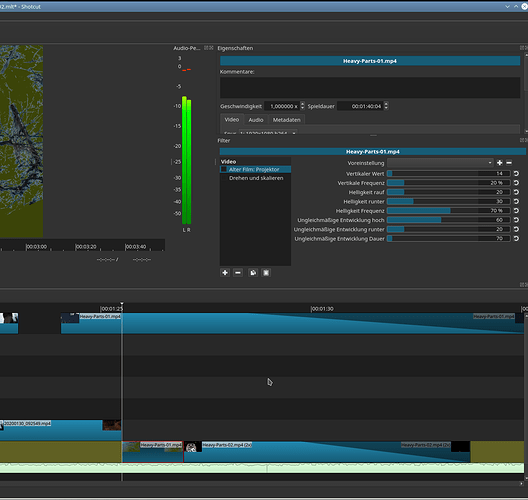 Shotcut is 20.02.02 Beta…
The part, beginning at the seeker is a normal MP4 file, exported with Shotcut at 85% quality. [1] And has no active filters (I can also remove them, doesn't matter).
Placing the seeker in this part needs 4<!> seconds to complete! Only placing! [2]
Preview starts smooth, but after ~ 1/2 second it is stuck, really and simply stuck, for about 2 seconds, then again some frames, and again it is stuck.
+++
[2] This part is a cut from a longer part (see [1]), and other cuts from the same longer part have a smooth preview and by far not such a long time for only placing the seeker.
+++
But this happend also with other parts…, the same or nearly.
I had also a part, with that kind of behavior, that I have replaced with the "original" from the Playlist (is meaning deleted and new from the Playlist) and from that on…the Preview for that part was smooth, and is it still.
And it often happen, that the Preview runs one time smooth, but only one time!
(If someone wants to remember, times ago I already wrote about that 'only one time')
And to better understand, what my intension is:
Especially for that part…, it is fast and the cuts are short and hard. And I am not able to compensate that behavior by brain, impossible. And it pulls me out of the video, the making, the depth (you know what I mean?).
---------EDIT-----------------
BTW:
I really hope it will be taken seriously, because it is really the last time, that I will have written about that.
++
Best regards
Earlybite