Hi folks,
I spent some time making another RED ARROWS video! (I posted my first one a few weeks ago).
This second one - I call it my "Action cut" - features some of the best action shots I took, with more severe editing, set to my own specially composed music track.
I followed helpful advice from @asik1 @emcsquared @drm and @hudson555x - including:
Hardly any dissolves, mainly cuts,
Shorter video length,
Less shots with those intrusive streetlamps!!!
I created the soundtrack in Cubase. No loops or third party material - I played every note! Here's a screenshot: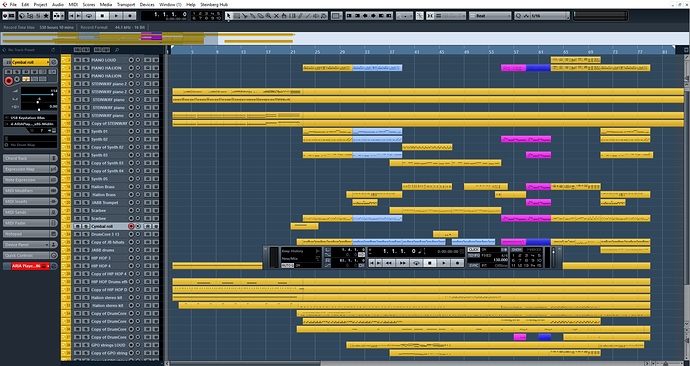 I used the stabilize filter for several shots, and the brightness filter on many of the action shots to try to brighten up the cloudy skies a little.
In case you didn't see the original, here's the background story again:
Recently I was in Devon (south coast UK) to watch an airshow by the excellent RAF Red Arrows aerobatics team. Conditions were damp and cloudy and it was touch and go whether they would be able to fly, but they found a slight easing of conditions, and gave what they term as a "rolling display".
All shots are mine, taken with a Panasonic HCV-160 camera.
I sure wish I had a 4k camera (with a tripod…!!) , or some lovely sharp 4K footage… … and better weather…

It's now 2.30 in length. Done with 18.10.01. Hope someone enjoys it as much as I enjoyed making it!
Here's the video: