Shotcut's export panel has an advanced mode that you can access by clicking the Advanced button at the bottom of the panel. By default the next time you restart Shotcut, the advanced mode is turned off again. However, you can pin it to the on or enabled state by clicking the checkbox next to Advanced.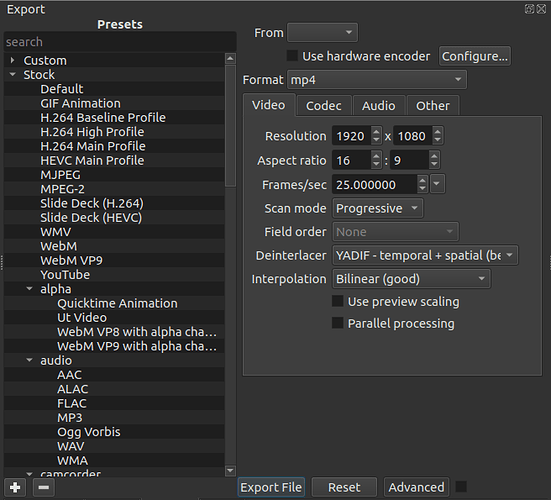 Video
Codec
Audio
Other
See MLT's documentation for information about the syntax and parameters. MLT's consumer properties also apply here. Most essential parameters are written by the presets and various form fields of Export > Advanced but you can override them here (must use the correct name, of course). Some parameters are appended to the generated ones. For example, you can supply a x265-params, and the Codec tab will prepend values needed for rate control. Prepending lets you specify overrides. You might also find FFmpeg's codecs and formats documentation more useful here as it is more organized. Please keep in mind that Shotcut is not a ffmpeg command line front end except in the rare cases of Properties > Convert and Reverse and proxy media generation. Thus, there are many things you cannot copy from ffmpeg examples are possible here. Only options from FFmpeg that affect the encoder or muxer.
Custom Export Presets
You can save your own custom preset by clicking the

button at the bottom of the Export panel.
To add a new Custom Export Preset:
Set your preferred parameters in the Video, Codec, Audio and Other tabs.
Click the button.
Give a name to your preset and click OK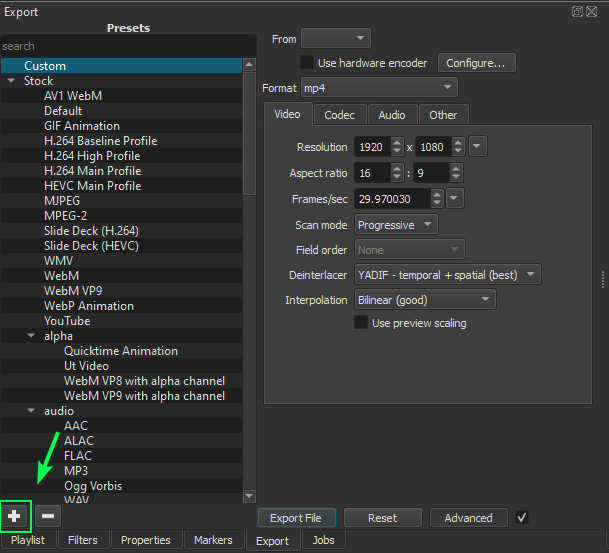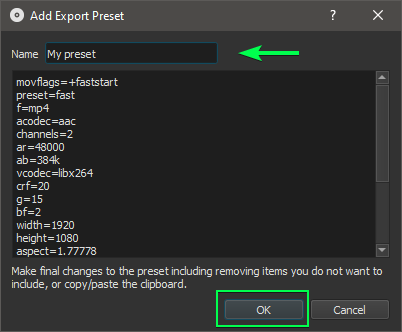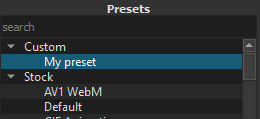 To delete a Custom Export Preset:
Select the custom preset you want to delete
Click the button at the bottom of the Export panel
Click OK to confirm