18.12.23
Windows 10
I found several bugs and issues with v18.12.23 so I am listing it all in one thread.
1) This bug that I reported on here before has made its return.
2) Pick an item on the filters list that is lower on the menu then when you go back to the list the upper half is cropped unless you scroll down and scroll back up. https://images2.imgbox.com/5a/4a/L7WJCvhh_o.gif
3) The Advanced Keyframes for the Rotate and Scale feature has some major bugs involving Scale.
I went to Scale and applied these two Advanced Keyframes to have the video zoom back smoothly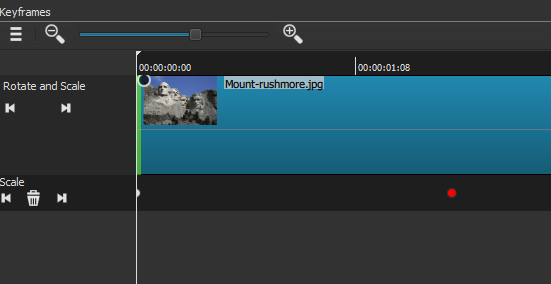 Instead, the video gets completely distorted in movement: https://images2.imgbox.com/0c/38/5iZOMdyi_o.gif
I then took the same Keyframes and just changed them to Linear and there seems to be a very slight distortion in movement right in the first few frames. Look closely and you'll catch it: https://images2.imgbox.com/80/67/JsMn3VBY_o.gif
I also took the same Advanced Keyframes and just changed them from Linear to Discrete and it also was distorted: https://images2.imgbox.com/e8/fb/btbpzCLa_o.gif
If you do this process by making the Advanced Keyframes Discrete first the result is not a discrete effect at all and there is major warping in movement: https://images2.imgbox.com/45/6c/nxl3Xtd1_o.gif
4) This red arrow gets distorted when the Mirror filter is applied first then after it the Size and Position or the Rotate and Scale filter.
Here is how it looks with the original png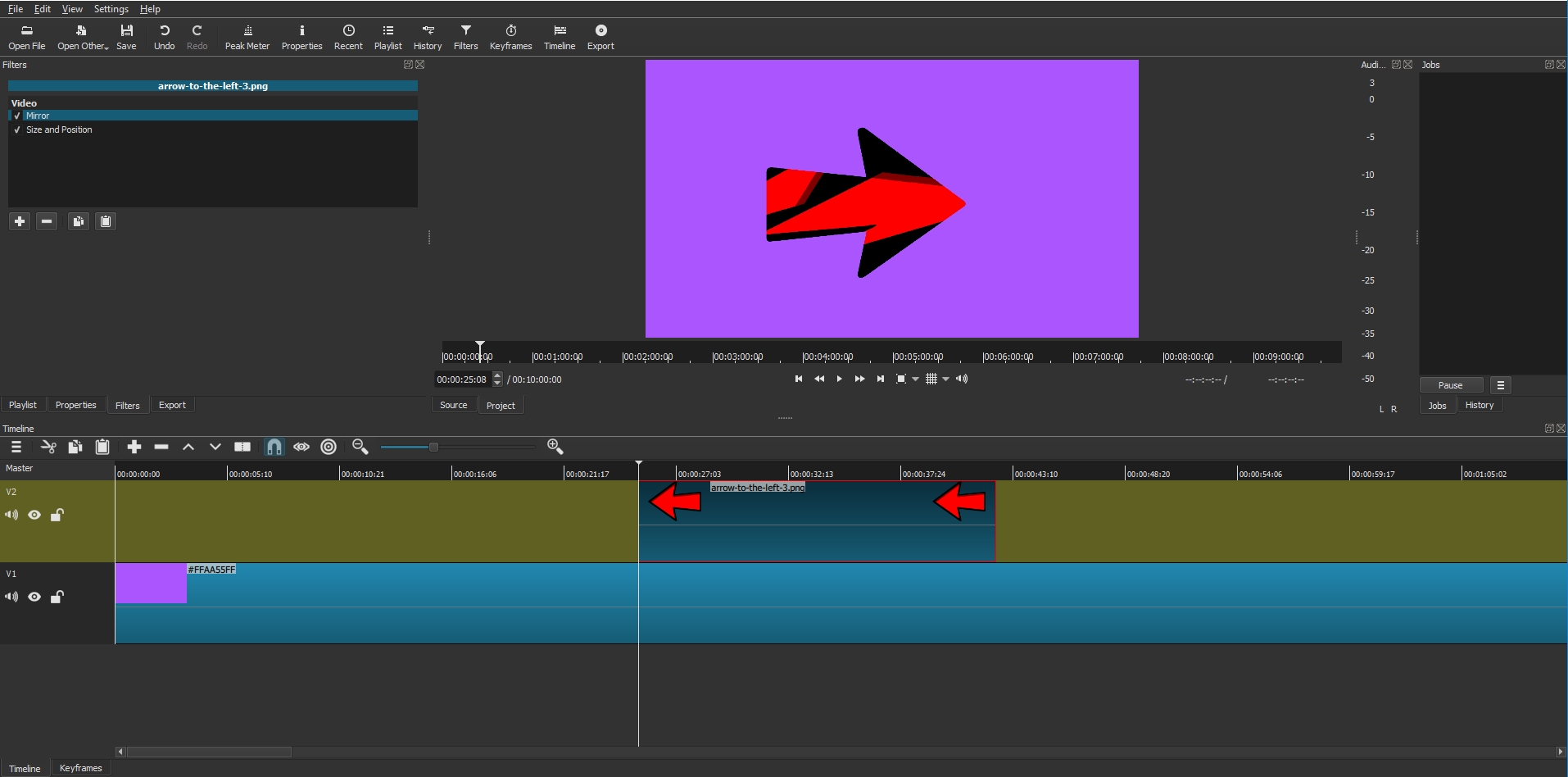 And here is how it looks like converted to jpg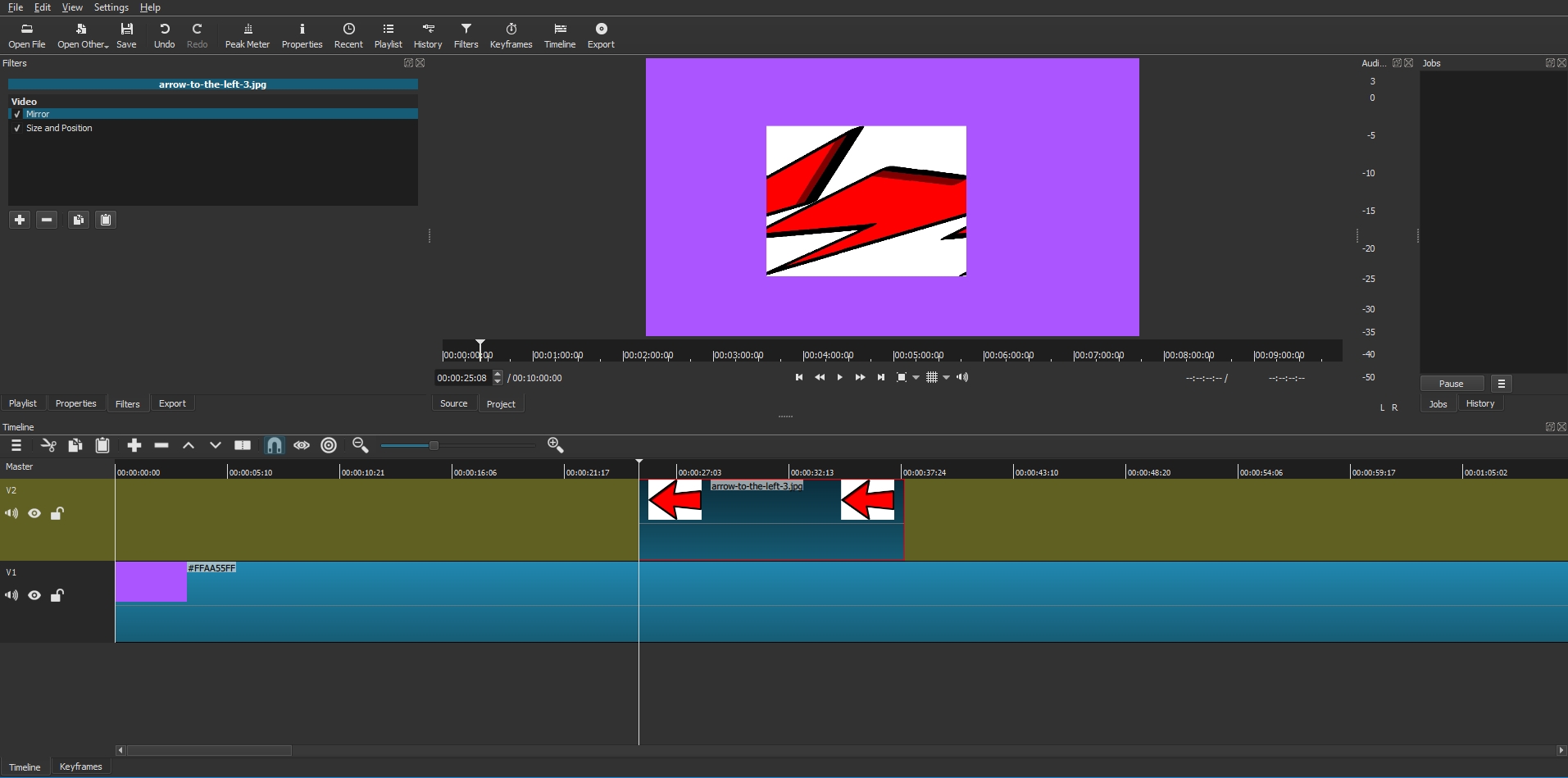 5) When moving the individual points in Advanced Keyframes, it tends to go out of sync with the playhead. That means that the playhead many times will not land directly on the Advanced Keyframe after it is moved. That makes it frustrating if I want to change the timing of an Advanced Keyframe to be where I have the playhead at because then it's imprecise: https://images2.imgbox.com/46/ff/eMpVCxuN_o.gif
6) There is a strange bug where if you switch the language of the interface and back to English then the names of the Shotcut filter presets in the other languages get added. I was checking out Japanese and Spanish but when I came back to English all those languages showed up in the preset list in Size and Position

7) The X and Y offset do not respond in Simple Keyframes. They only respond in Advanced Keyframes. A bug?
8) The 3D Text filter is not accessible anymore. When you choose it Shotcut freezes.
9) Finally, this may not really be a bug but how about setting the Blur filter to allow it to go to 0? The lowest it goes now is 1.