Hello there!
Hope you all are doing good!
I am Hrishikesh Kelkar.
I am using ShotCut for the previous 8 months and I love it!
But, today there is a bug occurring continuously.
I am currently using Manjaro GNOME Edition.
I used ShotCut on only Ubuntu and PoP!_OS before and it worked like a charm!
Just a few days ago, I switched to Manjaro GNOME.
After the installation of the OS, I installed ShotCut and also tried editing a video and at that time it was all good!
But now, I just opened it for editing a YouTube Video and was working well, but,
When I click on that button which says the current font name which is present in the 'Text: Simple' Filter or when I click on that A in the 'Text: Advanced' Filter,
ShotCut hangs for 3-5 seconds and just crashes!!!
After trying it 2-3 times, I just went on the web and searched for the issue.
Then I found this topic in this forum itself!: Crash when change the font
But,
It doesn't have anything. The problem faced by the Author of that Topic is the same one I am facing. But there is no solution!
Please help me solve it or I have to switch my editor.
I am attaching a screenshot with the mouse pointer which indicates the button: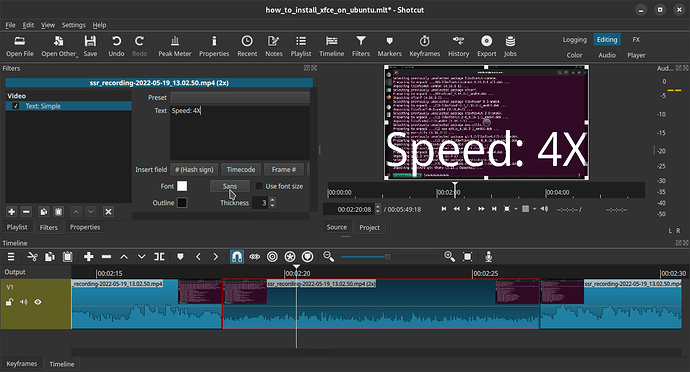 Check where is the mouse pointer to understand it.
Thanks in advance!
Edit: Forgot to mention the version. It is 22.04.25-1. It's installed using the Official Repository of Manjaro. [Pamac / Pacman]. Also, all the time I used ShotCut before, I used the FlatPak / FlatHub Package. Should I try using the FlatPak one to see if the bug is solved?