Crop: Rectangle is a filter used to crop a specified region of a video clip or image file to the current Video Mode. Keyframes available with this filter.
Filter can be applied to Source, selected clip, Video Track & Master.
Preset: Save current settings for later use. To use later, just click the drop-down menu for selection.

Preset storage (Windows) : AppData\Local\Meltytech\Shotcut\presets\webvfxClip

Position & Size: Values can either be input by keyboard or adjusted by the adjustable border corners and center.

Corner radius: Apply a corner radius to the cropped selection. Can be adjusted by the slider bar, entering a value, or just click & scroll on the percent value.

Padding color: Default is set to Black with no opacity (Alpha channel = 255). Any padding color can be selected and alteration of the Alpha channel can all be adjusted. You can also pick a color using the eye dropper tool.
Tip: To adjust opacity, lower Alpha channel from 255 to 0.
Example #1:
Video Mode 1920x1080, Image 1920x1080, Padding Alpha channel set to 255.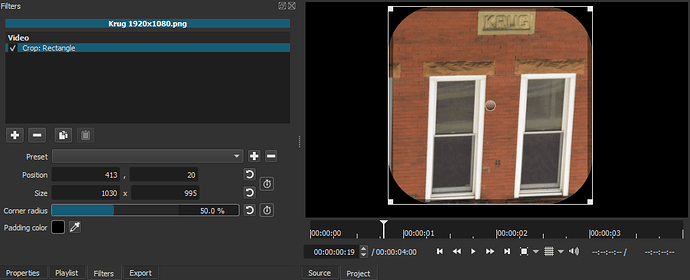 Example #2:
Video Mode 1920x1080, Image 1080x1350, Padding Alpha channel set to 0.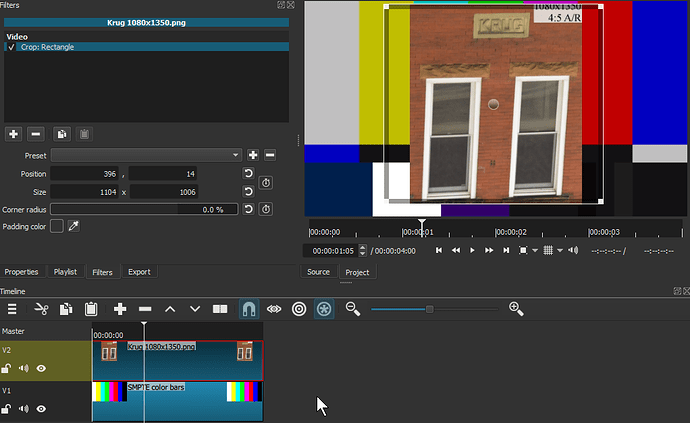 Note: Documentation current as of version 20.04.12