I'm trying to edit a piece of gameplay footage in Shotcut and the editing works fine. However, when I export the final video, the output looks wonky, specifically the colors are off.
I've taken screenshots of the original input, the editing and the output export video, and I've used a colorpicker tool to see the exact differences in the colors, see screenshot in attachement. During editing it's also slightly different but okay, it's probably due to the recording software and it's not really that noticable. But the colors in the export video are really noticeably different from either the original or during editing.
I've tried other settings, but the output colors are the same regardless of which export settings I select; H.264 high profile, Mpeg, Youtube etc.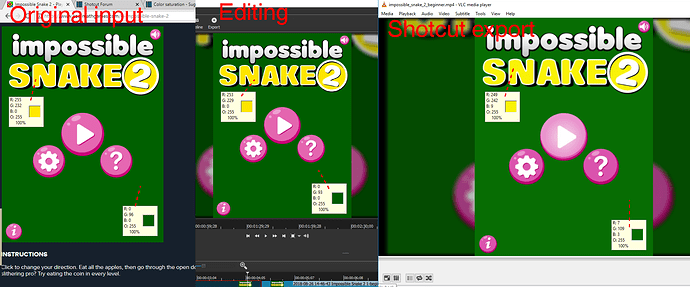 So my question is, how do I get correct colors in the output file? So that it has the same (or at least much closer to) colors as the input file?