What is your operating system?
Windows 10 Home (installed yesterday, latest install from web) - my old unit cracked, so I'm trying to set up a new unit to edit movies recorded from TV. I used to have Power Director 10, but I can't afford the new SW so I'm trying Shotcut.
What is your Shotcut version (see Help > About Shotcut)? Is it 32-bit? The x64 just downloaded from shotcut.org - shotcut-win64-200711.exe
Can you repeat the problem? If so, what are the steps?
(Please be specific and use the names as seen in Shotcut, preferably English. Include a screenshot or screen recording if you can. Also, you can attach logs from either View > Application Log or right-click a job and choose View Log.) Just click on the Shotcut icon in start menu, and I get this error: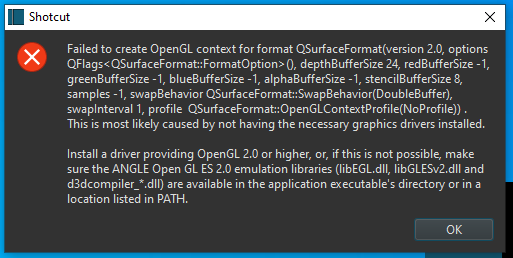 The error message appears to have something to do with my video driver, but in my device manager it looks ok. Under Display Adapters it says: Intel® Q35 Express Chipset Family (Microsoft Corporation - WDDM 1.0). Should I be using a different driver?
I was hoping I could use this prog, as it appeared to be easier than some others I read reviews about.
Regards.