How do you add a filter to multiple videos at once?
If you want the filters to affect clips that are all in one track you can add the filters to the trackheads themselves whether they are V1, V2, A1, A2, etc…
If the filters are spread on different tracks that you want to have affected then you can add the filters to the Master track head: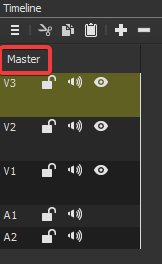 Simply select them like you would any clip in the timeline and just add the filters to them.
Then use the filter trimming tools to specify when you want the effects of the filters to start and end:
Thanks! Is there a way to add a filter to multiple but not all clips on the same track at the same time? Without adding them individually.
You're welcome.
That's what "Trimming Filters" is about. You add the filter to the track then set the start and end of that filter by using the trim handles.
This topic was automatically closed after 90 days. New replies are no longer allowed.