Give the user that choice, when creating a new project, of extending this one level up.
(In actual software, this would probably actually be pushing where the ,MLT files live one level down.)
The choice as presented to the user creating a new project; a checkbox.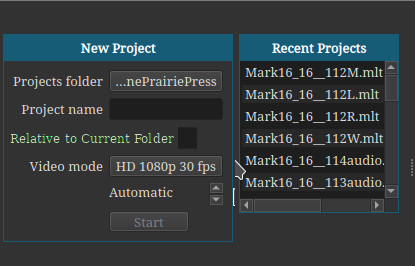 I should have called it "Relative to Project Folder" or "Relative to Selected Folder."
Just as now, clicking Start creates a new folder under the folder selected in "Projects folder", just as now, the folder is where all .mlt files will be stored by default.
Any files dragged to the playlist from the folder named in "Project folder" will now be relative, as are the files in the newly created folder and below.
Just as now, any files dragged to the Playlist from elsewhere will have absolute paths.
This does NOT attempt to incorporate a user's entire chosen file/folder organization into relativity, it only enables a user to choose to segregate .mlt files from video files, and have the video files at the higher level, while keeping the advantages of relative links within the project.