I've got a Qoocam camera I'm using for 360 video and I'm having a little trouble figuring out the correct transforms to use with the 360 hemispherical to equirectangular plugin so that I can use Shotcut for stitching instead of the vendor app that doesn't support GPU hardware acceleration.
It appears that my camera's default output has a different orientation than you would expect with other cameras. An example is shown below of the raw input before any processing and the plugin output on default settings: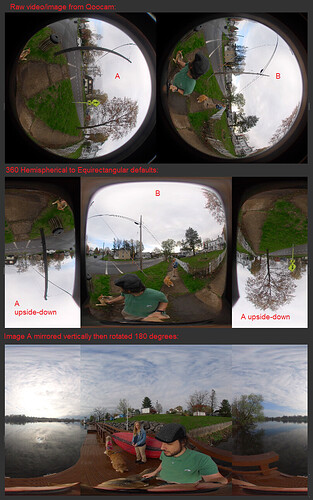 If I take the left image A and do a vertical mirror then rotate 180 degrees I can get the kind of output shown in the third example where I can at least start to play with the sliders to dial in the correct offsets.
Is there any plugin that will allow me to apply mirror/rotate operations specifically on the left side of the image as part of the Shotcut effects flow?
Honestly right now I am thinking about just doing a quick hack to filter_mirror.c for my own purposes to restrict it to the left half and do a rotate but it would take me some time to get my build environment setup so I'd love to know if there's an easier way.