(1) Settings > Realtime (frame dropping) crashes Shotcut
18.09 fixed the bit depth and sample rate issue as well as bluetooh headphone issue. The workaround for the default audio device issue also works.
However, Shocut crashes after I select Settings > Realtime if:
I changed the bit depth and sample rate previously.
I turned off my bluetooth headphone previously.
(2) The right simple keyframe handle disappears
Apply any keyframable filter to a clip on the timeline.
Move the right simple keyframe handle leftward and back rightward to the point where the popup indicates 00:00.
Increase the zoom level in the keyframe pane.
The left one also disappears but less likely because it tends to not get to the 00:00 mark.
Also happens in 18.08.14.
(3) The left simple keyframe handle doesn't go back to the 00:00 mark
Apply any keyframable filter to a clip on the timeline.
Drag the left simple keyframe handle rightward and drop it somewhere in the middle.
Drag it again leftward to the point where the popup is supped to indicate 00:00.
A few frames are left between the 00:00:00:00 mark and the left keyframe handle.
(4) It takes 3 clicks to open and close advanced keyframe instead of 2 in the past.
Apply the Size and Position, Rotate and Scale, or Text filter to a clip on the Timeline.
Move both the left and right simple keyframe handles toward the middle.
Click the advanced keyframe icon.
It takes two more clicks to close the advanced keyframe.
(5) Shotcut tends to crash when you do (4) with the Size and Position and Text filters.
The Rotate and Scale filter didn't crash Shotcut in my test.
(6) After I remove all the tracks, I can't drag and drop a clip to the empty Timeline.
An attempt to Paste, Append, and Overwrite a clip crashes Shotcut.
It happens even I add an empty video track and immediately remove it.
(7) Shotcut crashes when I do a trim-transition really quickly.
18.09 fixed the trim-transition-shrinks-a-clip issue and trim-transition-expands-a-clip issue.
However, doing this crashes Shotcut: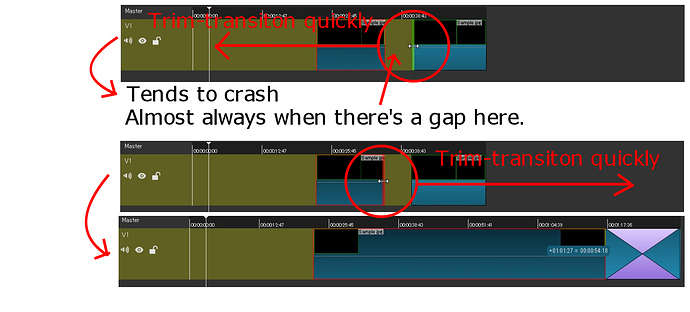 If Shotcut doesn't crash, the Timeline ends up getting messed up.
A potential scenario where this becomes a problem is someone tries to trim a clip to close the gap, then abruptly jerks the mouse.