What is your operating system?
Windows 10
What is your Shotcut version (see Help > About Shotcut)? Is it 32-bit?
Shotcut version 21.01.29
Can you repeat the problem? If so, what are the steps?
(Please be specific and use the names as seen in Shotcut, preferably English. Include a screenshot or screen recording if you can. Also, you can attach logs from either View > Application Log or right-click a job and choose View Log.)
I am asking for help with why my video keeps exporting but when you open the file, it's a black screen with just audio. I've tried some of the other steps on some of the posts here. Nothing worked. So far I have tried:
Turning off hardware encoder.
Didn't change video codec quality to 100%.
Didn't change anything in Export > Advanced.
Open the exported video in Shotcut and see if it shows the video.
(All this does is open it with audio and a blank white screen.)
With the exported video opened in Shotcut, show a screenshot of the Properties panel.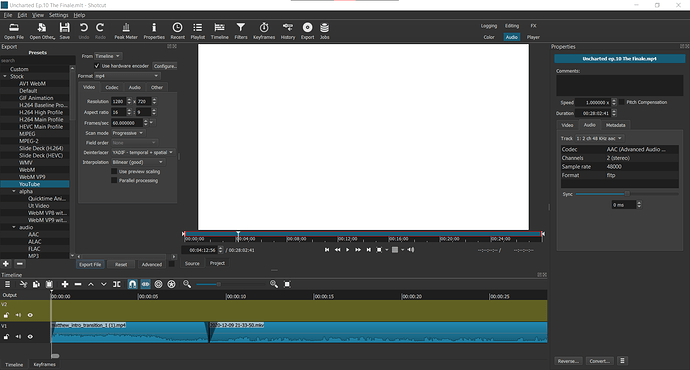 !
This is the screen that I get when I open the file in Shotcut.
Screenshot 2021-02-03 012944|570x500
This is a screenshot of I guess the properties tab and the export log for the file I'm trying to get working.
I would love any help, or any extra steps I can take to try and resolve this problem. I know this is a common problem and I hope that I'm just overlooking something simple y'all can help me with. Anyways, again helps appreciated.