Many thanks for putting together shotcut. I've absolutely loved it however I have an observation hence request for opinion from experts on the forum.
Summary of details from attached snapshot:
Hardware: Lenovo Laptop (CPU: AMD Ryzen 7 6800HS Creator Edition, 3201 Mhz 8 cores, GPU: Nvidia Geforce RTX 3050 Laptop GNU)
Software: Windows-11 ; Shotcut version 22.12.21
Length of Video: about one hours
Video Quality (input/output): 4K, 60 frames/second, bitrate 60M
Filters: White Balance, Brightness, 2 rich text, Gain/Vol,
Key observations are:
1: CPU is mostly sitting around 20-30% utilization
2: GPU is mostly around 18-24% utilization
3: RAM is around 10-11GB which is about 40% of max
There are plenty of compute resources that are sitting idle and expecting time to complete this job is around 9-10 hours. So my request for information on following points from experts on this forum
Are above observations on under utilization expected from shotcut? or maybe I am missing something. My naive intuition is that because more resource in hardware available and free as well then shotcut should be able to complete the job sooner
I have already ticked the option of use hardware encoder and use parallel processing.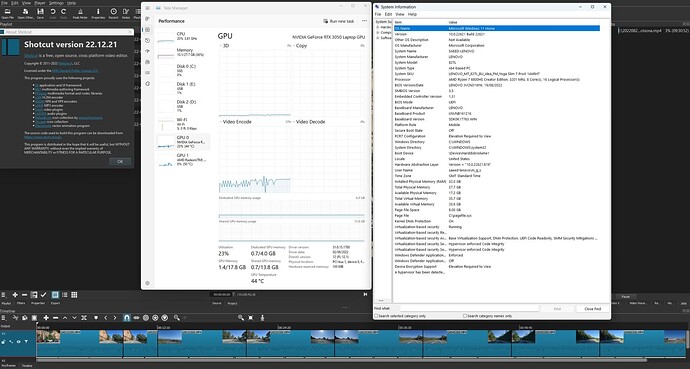 Many thanks for your help and support