Hey Guys,
I am currently working on creating a LetsPlay video. For that, I want to include a facecam on my video so people can see my reactions. I have tried to implement it with the "Size and Position" filter.
However, every time I try to do to that it does not work properly.
So, when I use the presets like "bottom left" or "top left" or others it works fine but it just takes up too much space of the picture (see 1st screenshot: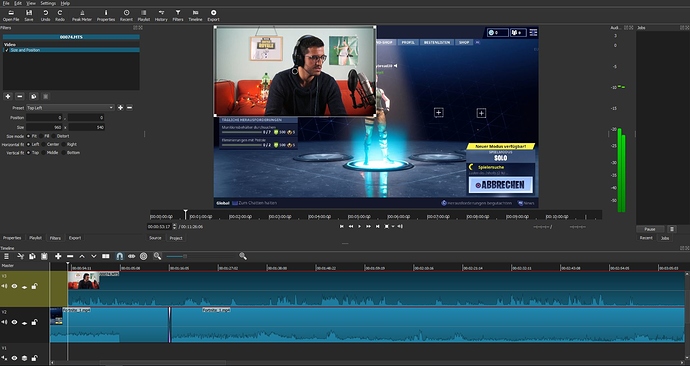 Then, I want to resize but this is when it gets really weird. I tried to change the size to e.g. 320x540, then the box goes to the top left but extremely small (see red circle in top left on 2nd screenshot: http://www.bilder-upload.eu/show.php?file=cdeb68-1518353919.jpg ).
Then I go to the box with my cursor and try to stretch the video to resize it with the cursor, not with the filter settings to the left. But then the video gets lost completely and the filter settings take up really weird numbers for position and size (see 3rd screenshot: http://www.bilder-upload.eu/show.php?file=d3769f-1518354048.jpg ).
Now the video is lost somewhere in the program and I have to start all over again, but there is no way I can make it as good as it is shown in the youtube link above.
Thank you so much for your help guys, it is much appreciated.
Have a nice day.