Important: This article describes a feature that is in an alpha/unstable state. Bugs are expected and the feature is subject to change. This feature is currently only suitable for testing.
Please use the beta now: V21.04 BETA/Unstable with Time Remap
You can still get this alpha version and see its release notes here, but the developers will not be responding any further to feedback from this older alpha version.
Road Map / Versioning Details
There will still be a version 21.02 stabilization release. There will only be a version 21.03 stabilization release if there are major regressions in version 21.02.
This version also includes all fixes made thus far for the next stable release 21.02.
There will be at least two more unstable builds released before v21.04 is released in April: a beta and a release candidate.
Time Remap requires a change in the engine that breaks its API backwards compatibility and requires a major new version. So, there is a lot of work under-the-hood required to stabilize the engine API before its next major release (MLT v7.0) simultaneous with Shotcut 21.04.
Known Issues/Limitations
(Many of these will not be addressed.)
If a clip has an in point set it might give an unexpected result.
There is no Pitch Compensation.
It only works on clips with NO B-frames. If you try to add it to such a clip, it will be blocked by a dialog instructing you to use Properties > Convert.
A proxy clip can mask the above check for B-frames and then export may be very slow, fail, or give bad results.
The About dialog says the version is UNSTABLE-21.02.09. That is intentional. Builds are primarily versioned on date, and we do not want to nail things down too specific here.
This filter cannot be disabled.
This filter does not support simple keyframes or filter trimming.
This filter can not be applied to tracks or the main output.
Usage
TL;DR : Filters > Time > Time Remap > Keyframes
The Time Remap filter is the first filter that allows altering the timing of the underlying source clip.

The Time Remap filter allows the user to map clip time to output time.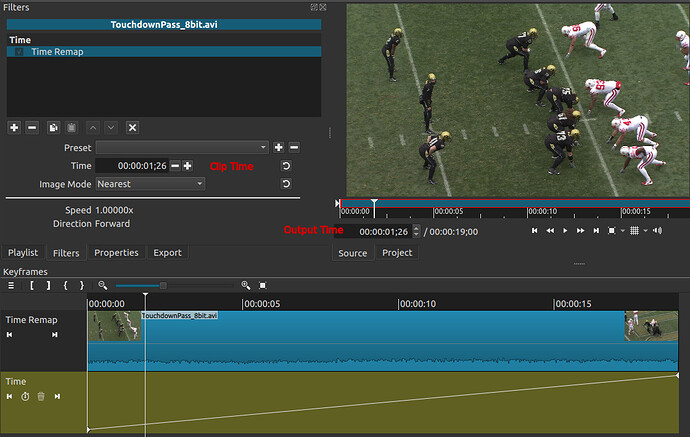 The default setting for the Time Remap filter sets the output time equal to the clip time which results in no change to the clip. The user can interact with the keyframes to change the time mapping. When the slope of the line is up, time is moving forward. When the line is flat, time is frozen (freeze frame). When the slope of the line is down, time is moving backwards (reverse). A steeper slope moves time faster.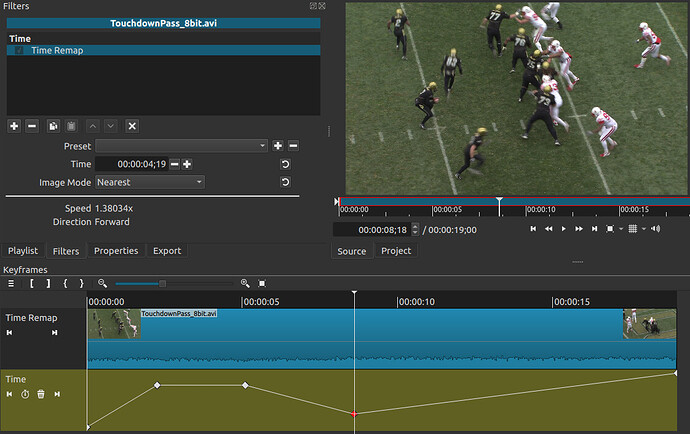 When the speed is faster than 1.0, multiple clip frames can map to the same output time. The Image Mode allows the user to choose between selecting the nearest frame, or blending frames frames.