Timeline audio only crackles when starting up playback in three video modes, just with 1 audio track.
Only tested with 19.08.05 & 19.07.15 (Win 10 64-bit)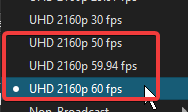 Open Shotcut
Add Audio Track
Open mp3 or wav (Plays fine in source)
Drag to timeline
Play project
Best heard the area marked in red. If it was a softer track, it might not be noticed.
testaudio.zip (1.2 MB)


This is an audio clip exported from UHD 2160p 60fps, and it plays fine, so it doesn't affect the export as far as I can tell.
I don't have any 4k video footage to try out.