Hello all!
Just tried my hand at Shotcut and ran into two problems:
– no text filter (yes, I clicked on the screen/show video filters icon, and yes I read all the posts I could find about that here – and I'm not HTML-savvy):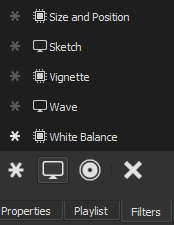 – the 3D text filter works OK, but there are apparently only 5 in-built fonts available, and I'd like to use TTF fonts from my machine:
[no screenshot here, alas, as new users can't post more than one image – which made me laugh]
Is that possible?
Thanks for your help, and kudos to the developers for Shotcut, which looks great, and for making it available for free!
OldNick (Win10 home x64, Shotcut 18.03.06)