What is your operating system?
Ubuntu 18.04
What is your Shotcut version (see Help > About Shotcut)? Is it 32-bit?
20.01.30
Can you repeat the problem? If so, what are the steps?
(Please be specific and use the names as seen in Shotcut, preferably English. Include a screenshot or screen recording if you can. Also, you can attach logs from either View > Application Log or right-click a job and choose View Log.)
There is strange inconsistency between video preview from shotcut and final video exported from shotcut. I noticed this in more than one of my projects. In exported video sometimes there is one additional line somewhere at the top which is not visible on preview (preview scaling=noone so it's not related with scaling). It's always related with png visible which is scaled and cropped. It looks like this additional line is generated in shotcut somehow and not coming from image. In some of my projects it was white, in some it's green (as it's this example here but here this green color is probably related with color grading filter, if I didn't have it, it was white then). It seems to have 1px size (or similar).
I can easily remove it from the final exported video by adding additional filter Crop: Source with Top 5 px.
However it's not something I would expect. For me the preview and exported image should be the same.
It's not the case of video player as I tried with few and all have this additional line visible. And of course I double checked the png file with high zoom. There is no any additional line on top. But it also appears for other png images as well.
The error is repeatable. So this line is always in the same place for the same video. And it doesn't consist the whole video, just only few parts where png image is displayed with the same or similar filters.
As attachement two screenshoots. One with video preview (with high zoom)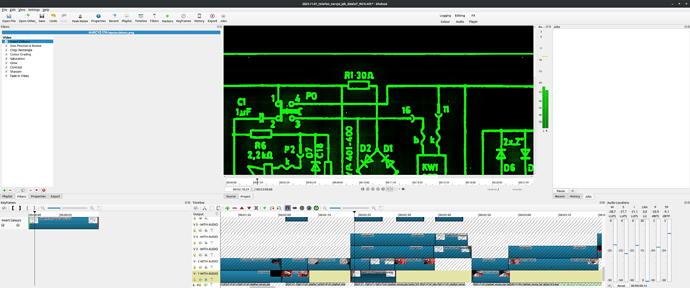 , and second with video exported.