Hi all–a wonderful contribution: both the program and community support! Many thanks.
MY INTENT:
I'm trying to do a short lecture with my talking head in a pip on top of a program where I show what I'm talking about–my "slides" if anyone's old enough to remember that term… ; )
MY PROCESS:
I'm recording the pip and slides as separate streams (with OBS). The catch is that my talking time is much shorter than the time to bring in all those slides–so I want to speed up the boring bits in the slide stream; the opposite of bullet time. And even before that speed-up, I need to edit out all the useless lags and mis-steps, so that stream is 50+ clips.
MY BLOCKING ISSUE:
In an ideal world I'd just highlight a bunch of clips (or better: a segment of time on that track), grab the right-hand edge, and squish it down to where the next slide matches what I'm talking about. The scores of little clips make it a serious pain to just increase the clip speed in Properties, and the chunks I want to speed up don't align with clip boundaries. (I know I could split more…)
How close can we get to my ideal? Really: just the fewest steps–I don't expect that simplicity. I'll need to do this whole process dozens of times for a class I'm putting together.
WHAT I'VE TRIED:
I thought as a workaround I could just merge all the clips & re-split; I think there's no clip merge? I'm in the middle of hacking the XML of my MLT save files because I did the edits in separate ones–hope to bring them together in one. (Also got caught by the can't-add-bottom-track non-feature; you can see my empty "top" and "bottom" coping mechanism tracks in the image below. Bump on adding that feature–or just open with a top & bottom track to help out us newbies!)
ANOTHER POSSIBILITY:
Then I thought I could write them all out as one video stream, but I get terrible compression, even dead clear in this lowest-quality JPG: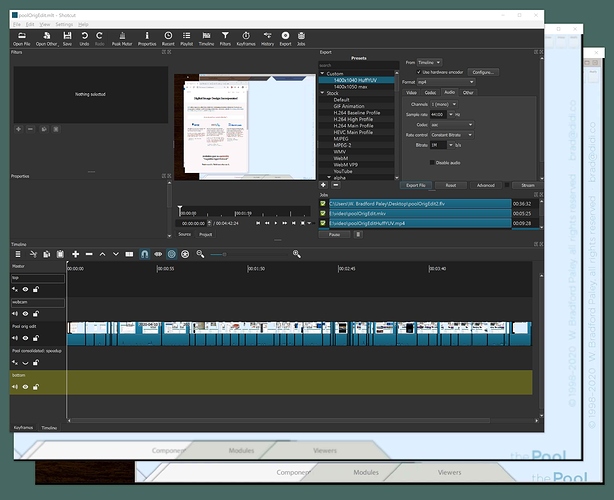 Look at the Pool logo bottom right, and copyright text along the right edge.
(Also: why the black boundaries? I noticed the codecs added 8x6 pixels to my desired 1400x1050–a standard display resolution. Is this a video newbie issue that it's impossible to get 1400x1050? Or could someone please tell me how?)
So someone could rescue me here by just telling me how to dump video at the same quality as the original–because I'm in the middle of the edit process and can't afford to lose this much quality before the final encoding! (I've done hours of research here and know this is a desired but controversial subject.)
My mug benefits from the soft focus–but the text is cripplingly illegible…