Hi there,
I am trying to apply "mask from file" and "blend mode" to achieve results which I did manage to get it.
Except my flashing paw is not contrasting enough.
Anyway happy with the results but not happy how I have to cut my main video in V1 to move up and down here and there to get this results. Any cleaner way ??
I suspect the things I learn when trying to apply into a whole video sequence really not easy if I want to avoid having to cut pieces of my main video (V1) for special effects.
But thought maybe someone can tell me any better streamline way to achieve the same results without cutting clips from V1 here and there … to achieve similar results
Basically what I like is …
the "mask from file" effect … anyway to avoid cutting a clip out of V1 to achieve this results? (1st diagram)
the "flashing paw print" using blend mode … anyway to avoid cutting a clip out of V1 to achieve this results (2nd diagram)
1st Diagram - "mask from file" (I created my own paw print … white paw with black background)
V2 has black color background …
V4 has video with Blend = Add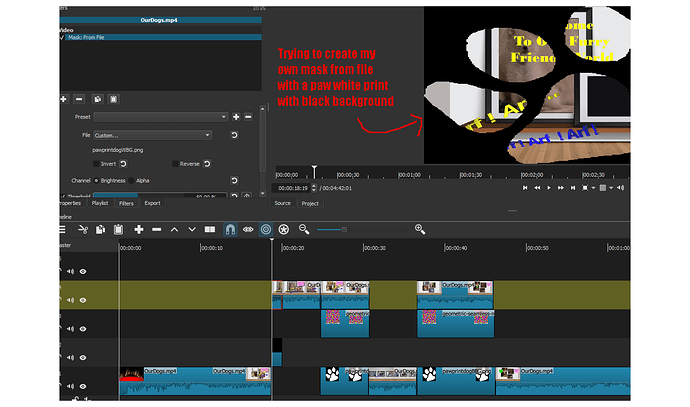 2nd Diagram - Flashing Paw print
"using blend mode = Multiply on colorful clip V3 and blend = "Add" on V4