Yet another transition for Shotcut.
I created that one to use in a video I made for my grandson.
I'm afraid it will only work properly on 1920 x 1080 projects.
Sorry 720p and 4K enthusiasts.
To get it, download and un-zip this file:
Shrink-Fall_Transition-Presets_1920x1080.zip (5.1 KB)
There are four files in the ZIP:
Shrink-Fall_Transition-Preset_1920x1080_24fps.txt
Works with 23.98 fps, 24 fps and 25 fps projects.
Shrink-Fall_Transition-Preset_1920x1080_30fps.txt
Works with 29.97 fps and 30 fps projects.
Shrink-Fall_Transition-Preset_1920x1080_50fps.txt
Works with 50 fps projects.
Shrink-Fall_Transition-Preset_1920x1080_60fps.txt
Works with 59.94 fps and 60 fps projects.
INSTRUCTIONS
Open the preset TXT file corresponding to your project's frame rate.
You will find instructions inserted in each file.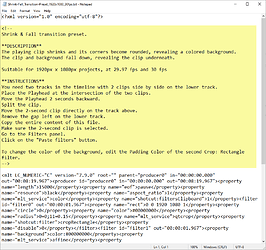 For step by step instructions, watch this demonstration of the preset used on a 30 fps project.