Shotcut definitely needs keymapping. That would make it WAY better…
Sorry, what i meant is keyframes… It is basically that you can set points on the timeline, and then you can make data, like position and size, change with time…
For example, i have a picture that i want to spin. Then i would set a keyframe where it's 0 degrees rotated. And then i would like a few seconds to the right on the timeline and set a new keyframe, rotating the image a 180 degrees, and then when i playback the image would rotate a 180 degrees over a few seconds.
Btw english is not my mother tounge, but i tried my best…
I made an illustration for this. This is from Adobe Premiere Pro: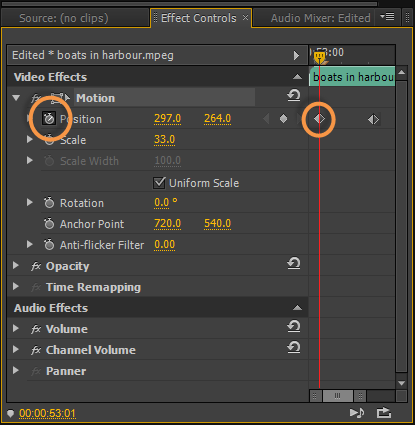 I think it's already identified in the Shotcut roadmap as number one feature to have (https://shotcutapp.com/roadmap/): "keyframable filter parameters". We just need to wait for the developers to have time to implement it.
OK xD Should maybe have checked it before I posted…