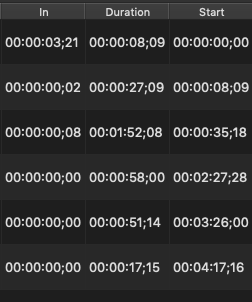 My understanding that Shotcut is using 30fps non-drop frame timecodes and it trips!
5th clip in the picture above is exactly 58 seconds long, yet 2:27;28 + 58 seconds exactly is 3:26;00 in Shotcut time

.
Not a big deal, but I wonder if this impacts EDL generation.
BTW, correct me if I am wrong, but AFAIK hh:mm:ss;ff is a Drop-Frame notation. Shotcut's non-drop frame should be hh:mm:ss:ff, no?