I'll start off by saying that I'm a novice when it comes to anything to do with editing. I really don't ever know what to do to fix a problem, and I barely even understand computers TBH. So forgive me if this question doesn't make sense, or if it's obvious what I've done wrong/need to do to fix it.
OK, so I have 3 separate saved files (named part 1, part 2, part 3) that I added to the playlist of another file I had open in Shotcut named 'outro', I then saved this file (with the added files called part 1, part 2 and part 3 saved in the playlist).
Now when I go to open the 'outro' file it says that parts 1, 2 and 3 are missing.
I have those parts saved on an external HD in a folder called 'Shotcut Edits' (which is where I save all my Shotcut edits which all open without a problem). So they're not missing, and it does state that folder as the folder where the files are missing. I'm not sure what the symbols are? As you can see in the attached images, the names of the files don't match (because of the added symbols in the requested file)?
When I try to open one of the individual parts (1, 2 or 3), as individual files, it's telling me that the 'outro' file is missing (the one where I saved all 3 parts in the playlist).
As you can see, I tried adding those "missing" files into the 'missing files' box as replacement files, but the names don't match (because of the symbols) and it just crashes when I click OK.
What's going on here, why are there a bunch of added symbols to the requested "missing" files, and what do I need to do to get these to open without shotcut crashing?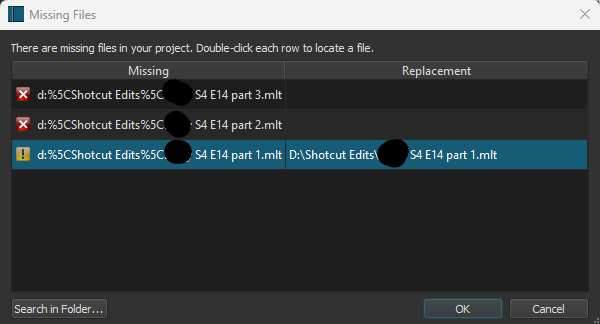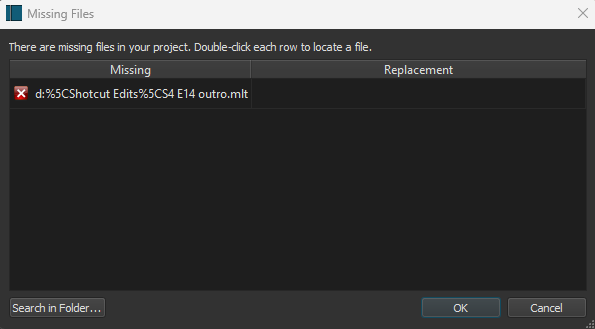 I've erased a name out that I wanted to keep private, but they all say the same thing where it's erased.
Any help would be much appreciated as I spent around 6 hours editing these files.
Thanks.