How can I embed an animated gif in png from a green background in shotcut ?
Using the latest version of Shotcut you can open an animated gif and add it to the timeline.
If you want the gif to loop, use open > other > color to open a transparent color clip. Add a text HTML filter, using the Blank HTML template. Save the html. When the HTML editor opens use edit > insert image to insert the gif.
Add the clip to the timeline. You can stretch the clip to make the gif loop as long as you want.
Hello Sauron,
Thank you for your quick reply, I will try to do so if I am able !!!
I did try without success, can you help a bit more if you please.
I don't know how to do what you expect me to do, I have tried many ways except the good one
Please can you help.
Many thanks
Not sure what you're trying to do.
Made this project.
There are two animated gifs with green backgrounds. I opened one in Shotcut and put irt on V3 with an image on V2. Used chroma key simple to key out the green.
On V4, I put a transparent clip with a text HTML filter. Inserted an animated gif, used chromakey simple to key out the green, scaled and centered the gif with rotate and scale, animated it with the size and position filter.
Gifs.zip (1.6 MB)
Take a look at the project. Maybe it will help you with what you're trying to do.
Thank You Sauron, In fact I try to do with Shotcut what I did with Producer 9 from Proshow company.I
I do have little but annoying problems with those animated Gif than I can't stretch as long as I need.
Thank you for your help
If you use the text HTML filter and insert the gif into the HTML you will be able to stretch the gif animation as long as you like.
Look at the project I uploaded. The walking skeleton gif can be stretched to 1 minute or 15 minutes.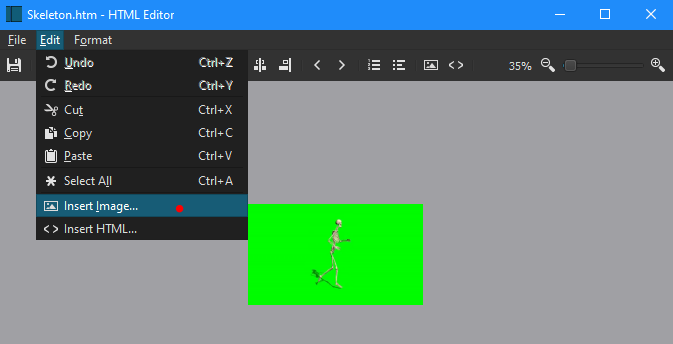 Thank You,
I did look at your project but skeleton HTML does not work.
When I do insert Image In HTML filter Shotcut cant save it and switch off.
Unfortunately the only way I know to use animated gifs is with the HTML overlay. Sometimes the HTML filters don't work well with some systems.
It's possible to copy the gif multiple times and animate it but the result will not be good.
Thank you very much for your help, everything is in order now that I learned about Gif and Html Filter.
This topic was automatically closed after 90 days. New replies are no longer allowed.