Hello, ppl
I'm trying to add and audio track to my screencast (some programming video, mainly text editor, 1920x1080 avc1 constant framerate) video with shotcut.
However, despite export quality settings, the resulting exported file has blurry text, if it is itself colored (highlighted keywords in text editor) on colored background (looks like compression-artifact). Black text on white background stays crisp.
I wonder if it is a problem of shotcut's rendering engine or if any workaround exits.
p.s. i have pictures from src video and from dst video of the same fragment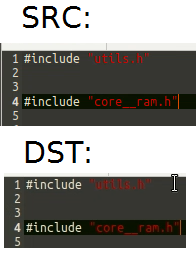 p.p.s. video mode is set to 1920x1080. also tried exporting as bmp-stills, and artifacts are still there