Hello.
I'm using latest Shotcut 19.07.15, latest NVIDIA Drivers version 436.10, Win 10.
About 4 months ago, I've found my perfect Preset for Youtube videos. It was working great for some time, but around 2-3 weeks ago, the very same preset started to produce only audio, ignoring video track at all. Changing codec to libx264 does the trick, but I want to get to the bottom of it and find out, why my preset suddenly stopped working. I've read Google and this forum about similar problems, but none of the info I've found was helpful.
I'm attaching screenshot of my preset. The only filter that I'm using for this project is audio "Gain/Volume", applied to the entire Audio Track. Video for this project was encoded by Shotcut itself, "Good/Medium" option and produced by NVIDIA Expirience Instant Replay feature.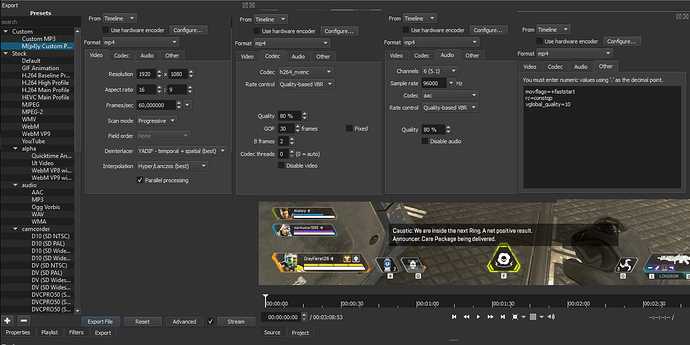 Any ideas?