MacOS Monterey version 12.3 (21E230)
Apple M1 chip
Mac Mini M1, 2020
Crash Report says…
Termination Reason: Namespace TCC, Code 0
This app has crashed because it attempted to access privacy-sensitive data without a usage description. The app's Info.plist must contain an NSCameraUsageDescription key with a string value explaining to the user how the app uses this data.
What is your Shotcut version (see Help > About Shotcut)? Is it 32-bit?
Process: Shotcut [79340]
Path: /Applications/Shotcut.app/Contents/MacOS/Shotcut
Identifier: com.Meltytech.Shotcut
Version: 22.03 (22.03.30)
Code Type: ARM-64 (Native)
Can you repeat the problem? If so, what are the steps?
Launch Shotcut
Click on Open Other → Audio/Video Device
Select an external Camera for video and Airpods for audio (or leave defaults)
Click OK
Crashes!!
To my surprise, Shotcut is NOT listed under camera or mic or screen recording sections of Privacy. See image below.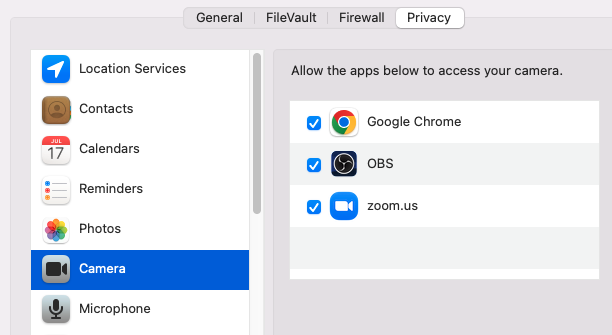 Please let me know if any additional information is needed to understand the problem.