Thanks for the shout out in the announcement.

Thanks for the shout out.
I just want to say I've just finished a recent project 50 or so individual edits on the timeline and 3 video tracks as well as separate audio. I used some effects and alpha transparency on videos (imported) and everything went really well.
Impressed with the stability (been compiling from git but it includes around the time of this release as I see some features not supported before). So, with approximately 150 hours of editing time on the project with I might have had 6 crashes (seems to be from videos going between tracks)
Hope this helps and many thanks
The effects are a lot of fun and it's cool how they appeared out of thin air (not having tracked github commits).
Tomorrow I'll upload a video where I had some more fun with it

In your demo, you first exported the video with the audio track you wanted to add as a lossless file then put it into Shotcut to use Audio Dance Visualization. You didn't need to do that. You could have the video with the audio in an audio track and add the Audio Dance Visualization to the Master track head. When you do that, the Audio Dance Visualization filter will pick up the audio and affect the video accordingly.
When you move the mouse to the left edge of a clip, you'll see it turn green. When you move it all the way to the right side it'll turn red. Those are the trim handles. So when you apply the Audio Dance Visualization to the Master track head, you can go to the Simple Keyframe window for the filter to use the trim handles to specify the section of the video that you want to have affected by that filter in case you don't want the filter to be active for the whole video.
Glad to hear that it should work without exporting midway. Unfortunately I don't understand how. Audio Dance Visualization added to V1 TRACK does not react to A1 TRACK's audio clips for me.
Oh, I see now. I didn't realize a "Master" track existed: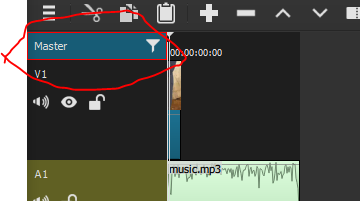 Thanks for letting me know!
Here's my fun video:

And here's some more explorations of the latest features:

A good review of the new filters and functions.


Shotcut Dance Party is great. The beginning of the video captures my attention.

This topic was automatically closed after 182 days. New replies are no longer allowed.