What is your operating system?
Windows 10
What is your Shotcut version (see Help > About Shotcut)?
23.10.27 nightly build
Can you repeat the problem? If so, what are the steps?
new left-right keyframes don't seem to carry same info about keyframe type. On the left one I chose to next > smooth (and from previous > hold), and on the right one I chose from previous > smooth (no keyframes after this one).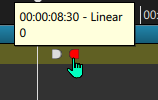 Also when I opened a file modified with the nightly 23.10.27 build with the release 23.09.29, the keyframes were linear even though I had made them smooth throughout.