Hello, I am a systems administrator trying to set up Shotcut for deployment in SCCM for my organisation to use for the rare case that someone needs to edit videos.
When I try to uninstall shotcut, I get the following error: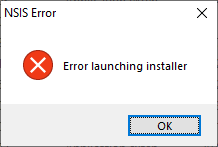 NCIC Error
Error launching installer
I've done a bit of googling, and the common suggestions don't seem to be applicable to this instance. This guide shows what i've tried to fix so far, but to no avail.
When I run uninstaller.exe /NCRC in elevated cmd nothing runs at all.
Has anyone else experienced this or have any suggestions as to what to try? The only cause I can think of (and why noone else has had this issue) would be my environment, which I can't pinpoint (the same happens if I disable the AV, proxy, change policies etc.)
Thanks for reading so far, and let me know if there's anything else I can provide.