Hello, I hope I did not get a wrong category of forum and wanted to propose an improvement that could be very useful for Shotcut.
I moved the folder with all my basic layouts for a project done on Shotcut, and when I open the .mlt file it asks me to relocate each file one by one which is a considerable loss of time when we have a small project like mine with a lot of small sequences.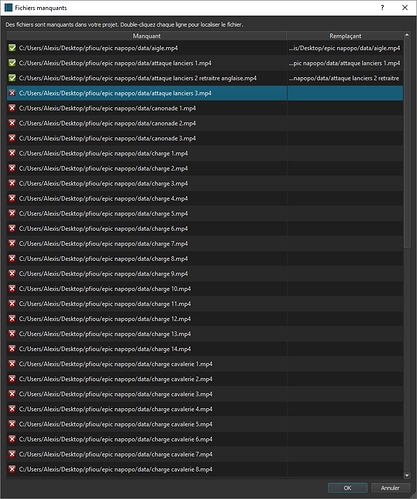 That's why I wanted to propose, if it were possible, to be able to select several files at once or to be able to select a folder directly and thus optimize the time spent relocating the missing files.
And finally I wanted to thank and congratulate the team Shotcut because this software is a marvel once we took the time to understand it. With a great possibility to set according to these tastes and an interface which I can not find anything wrong for the moment. I had tested several editing software in the past but since I only use it ^^
I translated everything on Google translation because I did not have a level in English enough for this post, I hope it will be understandable of all, on this, good day to you all