Hi,
I'm using Shotcut for 3 years now, and I never got this: what is the point of this checkbox "Adjust opacity instead of fade with back" ?
As far as I can see, I do not see cases where it's useful. BUT this is super annoying when I copy/paste filters (to have the same fade in/fade out lengths) to ask myself every time "why the hell this fade is not applied ?" when I do this: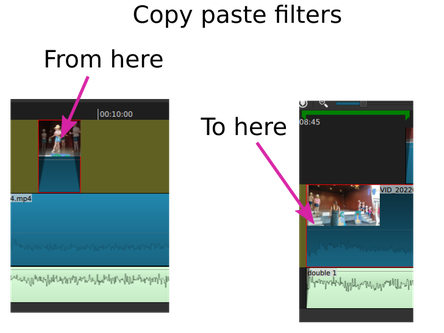 The difference between those two situations is that the first clip have another clip behind it, so the fade is done over the other clip. On the second situation, the clip is the only video clip in the timeline at this point, so behind it there is "nothing", ie black.
So here is my point: why Shotcut doesn't behave like every other NLVE (at least ones I tried) ie:
no clip below = black
all fades changes opacity
so

if there is a clip below, the fade is a transition from the lower clip to this one
if there's no clip below, the fade is a transition from black
Did I missed some use cases ? This would simplify the process a LOT IMHO
Thanks