Environment: Ubuntu 23.04, Shotcut 23.05.14.
GIF export fails, how do you set the GIF Animation preset during Export? I selected in the list, but still fails.
Use case: convert a mp4 video and turn it into a GIF (if that is even possible?)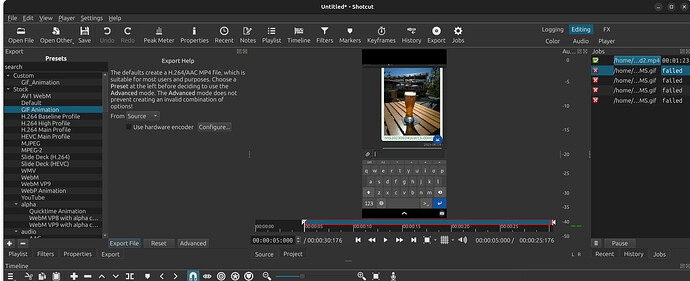 Above I select "Export File" and it fails. The file is a mp4
Where can you select "Export > Presets > Stock > GIF Animation" ?
I used ffmpeg -i Cropped2.mp4 NeverEndingMMS.gif directly, but it generated a GIF image with no animation. Maybe there is something wrong with the MP4 file?
Log:

> t[h264 @ 0x56481b82da80] Reinit context to 720x1440, pix_fmt: yuv420p
[h264 @ 0x56481b8e4540] Reinit context to 720x1440, pix_fmt: yuv420p
[h264 @ 0x56481b89d0c0] Reinit context to 720x1440, pix_fmt: yuv420p
[producer avformat] audio: total_streams 1 max_stream 1 total_channels 2 max_channels 2
[AVIOContext @ 0x56481b835180] Statistics: 292017 bytes read, 0 seeks
[libx264 @ 0x7f7e40001e40] using SAR=1/1
[libx264 @ 0x7f7e40001e40] using cpu capabilities: MMX2 SSE2Fast SSSE3 SSE4.2 AVX
[libx264 @ 0x7f7e40001e40] profile High, level 6.0, 4:2:0, 8-bit
[chain avformat-novalidate] /home/amiga/Downloads/Cropped.mp4
    checking VFR: pkt.duration 32
[chain avformat-novalidate] /home/amiga/Downloads/Cropped.mp4
     WILD TIMESTAMP: pkt.pts=[37920], pkt.dts=[37856], req_position=[3000], current_position=[-1], int_position=[1185], pts=[37920] 
[chain avformat-novalidate] /home/amiga/Downloads/Cropped.mp4
     WILD TIMESTAMP: pkt.pts=[38048], pkt.dts=[37888], req_position=[3000], current_position=[-1], int_position=[1189], pts=[38048] 
[h264 @ 0x56481b851680] Reinit context to 720x1440, pix_fmt: yuv420p
[chain avformat-novalidate] /home/amiga/Downloads/Cropped.mp4
     WILD TIMESTAMP: pkt.pts=[37984], pkt.dts=[37920], req_position=[3000], current_position=[-1], int_position=[1187], pts=[37984] 
[chain avformat-novalidate] /home/amiga/Downloads/Cropped.mp4
     WILD TIMESTAMP: pkt.pts=[37952], pkt.dts=[37952], req_position=[3000], current_position=[-1], int_position=[1186], pts=[37952] 
[chain avformat-novalidate] /home/amiga/Downloads/Cropped.mp4
     WILD TIMESTAMP: pkt.pts=[38016], pkt.dts=[37984], req_position=[3000], current_position=[-1], int_position=[1188], pts=[38016] 
[chain avformat-novalidate] /home/amiga/Downloads/Cropped.mp4
     WILD TIMESTAMP: pkt.pts=[38176], pkt.dts=[38016], req_position=[3000], current_position=[-1], int_position=[1193], pts=[38176] 
[chain avformat-novalidate] /home/amiga/Downloads/Cropped.mp4
     WILD TIMESTAMP: pkt.pts=[38112], pkt.dts=[38048], req_position=[3000], current_position=[-1], int_position=[1191], pts=[38112] 
[chain avformat-novalidate] /home/amiga/Downloads/Cropped.mp4
     WILD TIMESTAMP: pkt.pts=[38080], pkt.dts=[38080], req_position=[3000], current_position=[-1], int_position=[1190], pts=[38080] 
[chain avformat-novalidate] /home/amiga/Downloads/Cropped.mp4
     WILD TIMESTAMP: pkt.pts=[38144], pkt.dts=[38112], req_position=[3000], current_position=[-1], int_position=[1192], pts=[38144] 
[chain avformat-novalidate] /home/amiga/Downloads/Cropped.mp4
     WILD TIMESTAMP: pkt.pts=[38304], pkt.dts=[38144], req_position=[3000], current_position=[-1], int_position=[1197], pts=[38304] 
[chain avformat-novalidate] /home/amiga/Downloads/Cropped.mp4
     WILD TIMESTAMP: pkt.pts=[38240], pkt.dts=[38176], req_position=[3000], current_position=[-1], int_position=[1195], pts=[38240] 
[chain avformat-novalidate] /home/amiga/Downloads/Cropped.mp4
     WILD TIMESTAMP: pkt.pts=[38208], pkt.dts=[38208], req_position=[3000], current_position=[-1], int_position=[1194], pts=[38208] 
[chain avformat-novalidate] /home/amiga/Downloads/Cropped.mp4
     WILD TIMESTAMP: pkt.pts=[38272], pkt.dts=[38240], req_position=[3000], current_position=[-1], int_position=[1196], pts=[38272] 
[chain avformat-novalidate] /home/amiga/Downloads/Cropped.mp4
     WILD TIMESTAMP: pkt.pts=[38432], pkt.dts=[38272], req_position=[3000], current_position=[-1], int_position=[1201], pts=[38432] 
[chain avformat-novalidate] /home/amiga/Downloads/Cropped.mp4
     WILD TIMESTAMP: pkt.pts=[38368], pkt.dts=[38304], req_position=[3000], current_position=[-1], int_position=[1199], pts=[38368] 
[chain avformat-novalidate] /home/amiga/Downloads/Cropped.mp4
     WILD TIMESTAMP: pkt.pts=[38336], pkt.dts=[38336], req_position=[3000], current_position=[-1], int_position=[1198], pts=[38336] 
[chain avformat-novalidate] /home/amiga/Downloads/Cropped.mp4
     WILD TIMESTAMP: pkt.pts=[38400], pkt.dts=[38368], req_position=[3000], current_position=[-1], int_position=[1200], pts=[38400] 
[chain avformat-novalidate] /home/amiga/Downloads/Cropped.mp4
     WILD TIMESTAMP: pkt.pts=[38560], pkt.dts=[38400], req_position=[3000], current_position=[-1], int_position=[1205], pts=[38560] 
[chain avformat-novalidate] /home/amiga/Downloads/Cropped.mp4
     WILD TIMESTAMP: pkt.pts=[38496], pkt.dts=[38432], req_position=[3000], current_position=[-1], int_position=[1203], pts=[38496] 
[chain avformat-novalidate] /home/amiga/Downloads/Cropped.mp4
     WILD TIMESTAMP: pkt.pts=[38464], pkt.dts=[38464], req_position=[3000], current_position=[-1], int_position=[1202], pts=[38464] 
[chain avformat-novalidate] /home/amiga/Downloads/Cropped.mp4
     WILD TIMESTAMP: pkt.pts=[38528], pkt.dts=[38496], req_position=[3000], current_position=[-1], int_position=[1204], pts=[38528] 
[chain avformat-novalidate] /home/amiga/Downloads/Cropped.mp4
     WILD TIMESTAMP: pkt.pts=[38688], pkt.dts=[38528], req_position=[3000], current_position=[-1], int_position=[1209], pts=[38688] 
[chain avformat-novalidate] /home/amiga/Downloads/Cropped.mp4
     WILD TIMESTAMP: pkt.pts=[38624], pkt.dts=[38560], req_position=[3000], current_position=[-1], int_position=[1207], pts=[38624] 
[chain avformat-novalidate] /home/amiga/Downloads/Cropped.mp4
     WILD TIMESTAMP: pkt.pts=[38592], pkt.dts=[38592], req_position=[3000], current_position=[-1], int_position=[1206], pts=[38592] 
[chain avformat-novalidate] /home/amiga/Downloads/Cropped.mp4
     WILD TIMESTAMP: pkt.pts=[38656], pkt.dts=[38624], req_position=[3000], current_position=[-1], int_position=[1208], pts=[38656] 
[chain avformat-novalidate] /home/amiga/Downloads/Cropped.mp4
     WILD TIMESTAMP: pkt.pts=[38816], pkt.dts=[38656], req_position=[3000], current_position=[-1], int_position=[1213], pts=[38816] 
[chain avformat-novalidate] /home/amiga/Downloads/Cropped.mp4
     WILD TIMESTAMP: pkt.pts=[38752], pkt.dts=[38688], req_position=[3000], current_position=[-1], int_position=[1211], pts=[38752] 
[chain avformat-novalidate] /home/amiga/Downloads/Cropped.mp4
     WILD TIMESTAMP: pkt.pts=[38720], pkt.dts=[38720], req_position=[3000], current_position=[-1], int_position=[1210], pts=[38720] 
[chain avformat-novalidate] /home/amiga/Downloads/Cropped.mp4
     WILD TIMESTAMP: pkt.pts=[38784], pkt.dts=[38752], req_position=[3000], current_position=[-1], int_position=[1212], pts=[38784] 
[chain avformat-novalidate] /home/amiga/Downloads/Cropped.mp4
     WILD TIMESTAMP: pkt.pts=[38944], pkt.dts=[38784], req_position=[3000], current_position=[-1], int_position=[1217], pts=[38944] 
[chain avformat-novalidate] /home/amiga/Downloads/Cropped.mp4
     WILD TIMESTAMP: pkt.pts=[38880], pkt.dts=[38816], req_position=[3000], current_position=[-1], int_position=[1215], pts=[38880] 
[chain avformat-novalidate] /home/amiga/Downloads/Cropped.mp4
     WILD TIMESTAMP: pkt.pts=[38848], pkt.dts=[38848], req_position=[3000], current_position=[-1], int_position=[1214], pts=[38848] 
[chain avformat-novalidate] /home/amiga/Downloads/Cropped.mp4
     WILD TIMESTAMP: pkt.pts=[38912], pkt.dts=[38880], req_position=[3000], current_position=[-1], int_position=[1216], pts=[38912] 
[chain avformat-novalidate] /home/amiga/Downloads/Cropped.mp4
     WILD TIMESTAMP: pkt.pts=[39072], pkt.dts=[38912], req_position=[3000], current_position=[-1], int_position=[1221], pts=[39072] 
[chain avformat-novalidate] /home/amiga/Downloads/Cropped.mp4
     WILD TIMESTAMP: pkt.pts=[39008], pkt.dts=[38944], req_position=[3000], current_position=[-1], int_position=[1219], pts=[39008] 
[chain avformat-novalidate] /home/amiga/Downloads/Cropped.mp4
     WILD TIMESTAMP: pkt.pts=[38976], pkt.dts=[38976], req_position=[3000], current_position=[-1], int_position=[1218], pts=[38976] 
[chain avformat-novalidate] /home/amiga/Downloads/Cropped.mp4
     WILD TIMESTAMP: pkt.pts=[39040], pkt.dts=[39008], req_position=[3000], current_position=[-1], int_position=[1220], pts=[39040] 
[chain avformat-novalidate] /home/amiga/Downloads/Cropped.mp4
     WILD TIMESTAMP: pkt.pts=[39200], pkt.dts=[39040], req_position=[3000], current_position=[-1], int_position=[1225], pts=[39200] 
[chain avformat-novalidate] /home/amiga/Downloads/Cropped.mp4
     WILD TIMESTAMP: pkt.pts=[39136], pkt.dts=[39072], req_position=[3000], current_position=[-1], int_position=[1223], pts=[39136] 
[chain avformat-novalidate] /home/amiga/Downloads/Cropped.mp4
     WILD TIMESTAMP: pkt.pts=[39104], pkt.dts=[39104], req_position=[3000], current_position=[-1], int_position=[1222], pts=[39104] 
[chain avformat-novalidate] /home/amiga/Downloads/Cropped.mp4
     WILD TIMESTAMP: pkt.pts=[39168], pkt.dts=[39136], req_position=[3000], current_position=[-1], int_position=[1224], pts=[39168] 
[chain avformat-novalidate] /home/amiga/Downloads/Cropped.mp4
     WILD TIMESTAMP: pkt.pts=[39328], pkt.dts=[39168], req_position=[3000], current_position=[-1], int_position=[1229], pts=[39328] 
[chain avformat-novalidate] /home/amiga/Downloads/Cropped.mp4
     WILD TIMESTAMP: pkt.pts=[39264], pkt.dts=[39200], req_position=[3000], current_position=[-1], int_position=[1227], pts=[39264] 
[chain avformat-novalidate] /home/amiga/Downloads/Cropped.mp4
     WILD TIMESTAMP: pkt.pts=[39232], pkt.dts=[39232], req_position=[3000], current_position=[-1], int_position=[1226], pts=[39232] 
[chain avformat-novalidate] /home/amiga/Downloads/Cropped.mp4
     WILD TIMESTAMP: pkt.pts=[39296], pkt.dts=[39264], req_position=[3000], current_position=[-1], int_position=[1228], pts=[39296] 
[chain avformat-novalidate] /home/amiga/Downloads/Cropped.mp4
     WILD TIMESTAMP: pkt.pts=[39456], pkt.dts=[39296], req_position=[3000], current_position=[-1], int_position=[1233], pts=[39456] 
[chain avformat-novalidate] /home/amiga/Downloads/Cropped.mp4
     WILD TIMESTAMP: pkt.pts=[39392], pkt.dts=[39328], req_position=[3000], current_position=[-1], int_position=[1231], pts=[39392] 
[chain avformat-novalidate] /home/amiga/Downloads/Cropped.mp4
     WILD TIMESTAMP: pkt.pts=[39360], pkt.dts=[39360], req_position=[3000], current_position=[-1], int_position=[1230], pts=[39360] 
[chain avformat-novalidate] /home/amiga/Downloads/Cropped.mp4
     WILD TIMESTAMP: pkt.pts=[39424], pkt.dts=[39392], req_position=[3000], current_position=[-1], int_position=[1232], pts=[39424] 
[chain avformat-novalidate] /home/amiga/Downloads/Cropped.mp4
     WILD TIMESTAMP: pkt.pts=[39584], pkt.dts=[39424], req_position=[3000], current_position=[-1], int_position=[1237], pts=[39584] 
[chain avformat-novalidate] /home/amiga/Downloads/Cropped.mp4
     WILD TIMESTAMP: pkt.pts=[39520], pkt.dts=[39456], req_position=[3000], current_position=[-1], int_position=[1235], pts=[39520] 
[chain avformat-novalidate] /home/amiga/Downloads/Cropped.mp4
     WILD TIMESTAMP: pkt.pts=[39488], pkt.dts=[39488], req_position=[3000], current_position=[-1], int_position=[1234], pts=[39488] 
[chain avformat-novalidate] /home/amiga/Downloads/Cropped.mp4
     WILD TIMESTAMP: pkt.pts=[39552], pkt.dts=[39520], req_position=[3000], current_position=[-1], int_position=[1236], pts=[39552] 
[chain avformat-novalidate] /home/amiga/Downloads/Cropped.mp4
     WILD TIMESTAMP: pkt.pts=[39712], pkt.dts=[39552], req_position=[3000], current_position=[-1], int_position=[1241], pts=[39712] 
[chain avformat-novalidate] /home/amiga/Downloads/Cropped.mp4
     WILD TIMESTAMP: pkt.pts=[39648], pkt.dts=[39584], req_position=[3000], current_position=[-1], int_position=[1239], pts=[39648] 
[chain avformat-novalidate] /home/amiga/Downloads/Cropped.mp4
     WILD TIMESTAMP: pkt.pts=[39616], pkt.dts=[39616], req_position=[3000], current_position=[-1], int_position=[1238], pts=[39616] 
[chain avformat-novalidate] /home/amiga/Downloads/Cropped.mp4
     WILD TIMESTAMP: pkt.pts=[39680], pkt.dts=[39648], req_position=[3000], current_position=[-1], int_position=[1240], pts=[39680] 
[chain avformat-novalidate] /home/amiga/Downloads/Cropped.mp4
     WILD TIMESTAMP: pkt.pts=[39840], pkt.dts=[39680], req_position=[3000], current_position=[-1], int_position=[1245], pts=[39840] 
[chain avformat-novalidate] /home/amiga/Downloads/Cropped.mp4
     WILD TIMESTAMP: pkt.pts=[39776], pkt.dts=[39712], req_position=[3000], current_position=[-1], int_position=[1243], pts=[39776] 
[chain avformat-novalidate] /home/amiga/Downloads/Cropped.mp4
     WILD TIMESTAMP: pkt.pts=[39744], pkt.dts=[39744], req_position=[3000], current_position=[-1], int_position=[1242], pts=[39744] 
[chain avformat-novalidate] /home/amiga/Downloads/Cropped.mp4
     WILD TIMESTAMP: pkt.pts=[39808], pkt.dts=[39776], req_position=[3000], current_position=[-1], int_position=[1244], pts=[39808] 
[chain avformat-novalidate] /home/amiga/Downloads/Cropped.mp4
     WILD TIMESTAMP: pkt.pts=[39968], pkt.dts=[39808], req_position=[3000], current_position=[-1], int_position=[1249], pts=[39968] 
[chain avformat-novalidate] /home/amiga/Downloads/Cropped.mp4
     WILD TIMESTAMP: pkt.pts=[39904], pkt.dts=[39840], req_position=[3000], current_position=[-1], int_position=[1247], pts=[39904] 
[chain avformat-novalidate] /home/amiga/Downloads/Cropped.mp4
     WILD TIMESTAMP: pkt.pts=[39872], pkt.dts=[39872], req_position=[3000], current_position=[-1], int_position=[1246], pts=[39872] 
[chain avformat-novalidate] /home/amiga/Downloads/Cropped.mp4
     WILD TIMESTAMP: pkt.pts=[39936], pkt.dts=[39904], req_position=[3000], current_position=[-1], int_position=[1248], pts=[39936] 
[chain avformat-novalidate] /home/amiga/Downloads/Cropped.mp4
     WILD TIMESTAMP: pkt.pts=[40096], pkt.dts=[39936], req_position=[3000], current_position=[-1], int_position=[1253], pts=[40096] 
[chain avformat-novalidate] /home/amiga/Downloads/Cropped.mp4
     WILD TIMESTAMP: pkt.pts=[40032], pkt.dts=[39968], req_position=[3000], current_position=[-1], int_position=[1251], pts=[40032] 
[chain avformat-novalidate] /home/amiga/Downloads/Cropped.mp4
     WILD TIMESTAMP: pkt.pts=[40000], pkt.dts=[40000], req_position=[3000], current_position=[-1], int_position=[1250], pts=[40000] 
[chain avformat-novalidate] /home/amiga/Downloads/Cropped.mp4
     WILD TIMESTAMP: pkt.pts=[40064], pkt.dts=[40032], req_position=[3000], current_position=[-1], int_position=[1252], pts=[40064] 
[chain avformat-novalidate] /home/amiga/Downloads/Cropped.mp4
     WILD TIMESTAMP: pkt.pts=[40224], pkt.dts=[40064], req_position=[3000], current_position=[-1], int_position=[1257], pts=[40224] 
[chain avformat-novalidate] /home/amiga/Downloads/Cropped.mp4
     WILD TIMESTAMP: pkt.pts=[40160], pkt.dts=[40096], req_position=[3000], current_position=[-1], int_position=[1255], pts=[40160] 
[chain avformat-novalidate] /home/amiga/Downloads/Cropped.mp4
     WILD TIMESTAMP: pkt.pts=[40128], pkt.dts=[40128], req_position=[3000], current_position=[-1], int_position=[1254], pts=[40128] 
[chain avformat-novalidate] /home/amiga/Downloads/Cropped.mp4
     WILD TIMESTAMP: pkt.pts=[40192], pkt.dts=[40160], req_position=[3000], current_position=[-1], int_position=[1256], pts=[40192] 
[chain avformat-novalidate] /home/amiga/Downloads/Cropped.mp4
     WILD TIMESTAMP: pkt.pts=[40352], pkt.dts=[40192], req_position=[3000], current_position=[-1], int_position=[1261], pts=[40352] 
[chain avformat-novalidate] /home/amiga/Downloads/Cropped.mp4
     WILD TIMESTAMP: pkt.pts=[40288], pkt.dts=[40224], req_position=[3000], current_position=[-1], int_position=[1259], pts=[40288] 
[chain avformat-novalidate] /home/amiga/Downloads/Cropped.mp4
     WILD TIMESTAMP: pkt.pts=[40256], pkt.dts=[40256], req_position=[3000], current_position=[-1], int_position=[1258], pts=[40256] 
[chain avformat-novalidate] /home/amiga/Downloads/Cropped.mp4
     WILD TIMESTAMP: pkt.pts=[40320], pkt.dts=[40288], req_position=[3000], current_position=[-1], int_position=[1260], pts=[40320] 
[chain avformat-novalidate] /home/amiga/Downloads/Cropped.mp4
     WILD TIMESTAMP: pkt.pts=[40480], pkt.dts=[40320], req_position=[3000], current_position=[-1], int_position=[1265], pts=[40480] 
[chain avformat-novalidate] /home/amiga/Downloads/Cropped.mp4
     WILD TIMESTAMP: pkt.pts=[40416], pkt.dts=[40352], req_position=[3000], current_position=[-1], int_position=[1263], pts=[40416] 
[chain avformat-novalidate] /home/amiga/Downloads/Cropped.mp4
     WILD TIMESTAMP: pkt.pts=[40384], pkt.dts=[40384], req_position=[3000], current_position=[-1], int_position=[1262], pts=[40384] 
[chain avformat-novalidate] /home/amiga/Downloads/Cropped.mp4
     WILD TIMESTAMP: pkt.pts=[40448], pkt.dts=[40416], req_position=[3000], current_position=[-1], int_position=[1264], pts=[40448] 
[chain avformat-novalidate] /home/amiga/Downloads/Cropped.mp4
     WILD TIMESTAMP: pkt.pts=[40608], pkt.dts=[40448], req_position=[3000], current_position=[-1], int_position=[1269], pts=[40608] 
[chain avformat-novalidate] /home/amiga/Downloads/Cropped.mp4
     WILD TIMESTAMP: pkt.pts=[40544], pkt.dts=[40480], req_position=[3000], current_position=[-1], int_position=[1267], pts=[40544] 
[chain avformat-novalidate] /home/amiga/Downloads/Cropped.mp4
     WILD TIMESTAMP: pkt.pts=[40512], pkt.dts=[40512], req_position=[3000], current_position=[-1], int_position=[1266], pts=[40512] 
[chain avformat-novalidate] /home/amiga/Downloads/Cropped.mp4
     WILD TIMESTAMP: pkt.pts=[40576], pkt.dts=[40544], req_position=[3000], current_position=[-1], int_position=[1268], pts=[40576] 
[chain avformat-novalidate] /home/amiga/Downloads/Cropped.mp4
     WILD TIMESTAMP: pkt.pts=[40736], pkt.dts=[40576], req_position=[3000], current_position=[-1], int_position=[1273], pts=[40736] 
[chain avformat-novalidate] /home/amiga/Downloads/Cropped.mp4
     WILD TIMESTAMP: pkt.pts=[40672], pkt.dts=[40608], req_position=[3000], current_position=[-1], int_position=[1271], pts=[40672] 
[chain avformat-novalidate] /home/amiga/Downloads/Cropped.mp4
     WILD TIMESTAMP: pkt.pts=[40640], pkt.dts=[40640], req_position=[3000], current_position=[-1], int_position=[1270], pts=[40640] 
[chain avformat-novalidate] /home/amiga/Downloads/Cropped.mp4
     WILD TIMESTAMP: pkt.pts=[40704], pkt.dts=[40672], req_position=[3000], current_position=[-1], int_position=[1272], pts=[40704] 
[chain avformat-novalidate] /home/amiga/Downloads/Cropped.mp4
     WILD TIMESTAMP: pkt.pts=[40864], pkt.dts=[40704], req_position=[3000], current_position=[-1], int_position=[1277], pts=[40864] 
[chain avformat-novalidate] /home/amiga/Downloads/Cropped.mp4
     WILD TIMESTAMP: pkt.pts=[40800], pkt.dts=[40736], req_position=[3000], current_position=[-1], int_position=[1275], pts=[40800] 
[chain avformat-novalidate] /home/amiga/Downloads/Cropped.mp4
     WILD TIMESTAMP: pkt.pts=[40768], pkt.dts=[40768], req_position=[3000], current_position=[-1], int_position=[1274], pts=[40768] 
[chain avformat-novalidate] /home/amiga/Downloads/Cropped.mp4
     WILD TIMESTAMP: pkt.pts=[40832], pkt.dts=[40800], req_position=[3000], current_position=[-1], int_position=[1276], pts=[40832] 
[chain avformat-novalidate] /home/amiga/Downloads/Cropped.mp4
     WILD TIMESTAMP: pkt.pts=[40992], pkt.dts=[40832], req_position=[3000], current_position=[-1], int_position=[1281], pts=[40992] 
[chain avformat-novalidate] /home/amiga/Downloads/Cropped.mp4
     WILD TIMESTAMP: pkt.pts=[40928], pkt.dts=[40864], req_position=[3000], current_position=[-1], int_position=[1279], pts=[40928] 
[chain avformat-novalidate] /home/amiga/Downloads/Cropped.mp4
     WILD TIMESTAMP: pkt.pts=[40896], pkt.dts=[40896], req_position=[3000], current_position=[-1], int_position=[1278], pts=[40896] 
[chain avformat-novalidate] /home/amiga/Downloads/Cropped.mp4
     WILD TIMESTAMP: pkt.pts=[40960], pkt.dts=[40928], req_position=[3000], current_position=[-1], int_position=[1280], pts=[40960] 
[chain avformat-novalidate] /home/amiga/Downloads/Cropped.mp4
     WILD TIMESTAMP: pkt.pts=[41120], pkt.dts=[40960], req_position=[3000], current_position=[-1], int_position=[1285], pts=[41120] 
[chain avformat-novalidate] /home/amiga/Downloads/Cropped.mp4
     WILD TIMESTAMP: pkt.pts=[41056], pkt.dts=[40992], req_position=[3000], current_position=[-1], int_position=[1283], pts=[41056] 
[chain avformat-novalidate] /home/amiga/Downloads/Cropped.mp4
     WILD TIMESTAMP: pkt.pts=[41024], pkt.dts=[41024], req_position=[3000], current_position=[-1], int_position=[1282], pts=[41024] 
[chain avformat-novalidate] /home/amiga/Downloads/Cropped.mp4
     WILD TIMESTAMP: pkt.pts=[41088], pkt.dts=[41056], req_position=[3000], current_position=[-1], int_position=[1284], pts=[41088] 
[chain avformat-novalidate] /home/amiga/Downloads/Cropped.mp4
     WILD TIMESTAMP: pkt.pts=[41248], pkt.dts=[41088], req_position=[3000], current_position=[-1], int_position=[1289], pts=[41248] 
[chain avformat-novalidate] /home/amiga/Downloads/Cropped.mp4
     WILD TIMESTAMP: pkt.pts=[41184], pkt.dts=[41120], req_position=[3000], current_position=[-1], int_position=[1287], pts=[41184] 
[chain avformat-novalidate] /home/amiga/Downloads/Cropped.mp4
     WILD TIMESTAMP: pkt.pts=[41152], pkt.dts=[41152], req_position=[3000], current_position=[-1], int_position=[1286], pts=[41152] 
[chain avformat-novalidate] /home/amiga/Downloads/Cropped.mp4
     WILD TIMESTAMP: pkt.pts=[41216], pkt.dts=[41184], req_position=[3000], current_position=[-1], int_position=[1288], pts=[41216] 
[chain avformat-novalidate] /home/amiga/Downloads/Cropped.mp4
     WILD TIMESTAMP: pkt.pts=[41376], pkt.dts=[41216], req_position=[3000], current_position=[-1], int_position=[1293], pts=[41376] 
[chain avformat-novalidate] /home/amiga/Downloads/Cropped.mp4
     WILD TIMESTAMP: pkt.pts=[41312], pkt.dts=[41248], req_position=[3000], current_position=[-1], int_position=[1291], pts=[41312] 
[chain avformat-novalidate] /home/amiga/Downloads/Cropped.mp4
     WILD TIMESTAMP: pkt.pts=[41280], pkt.dts=[41280], req_position=[3000], current_position=[-1], int_position=[1290], pts=[41280] 
[chain avformat-novalidate] /home/amiga/Downloads/Cropped.mp4
     WILD TIMESTAMP: pkt.pts=[41344], pkt.dts=[41312], req_position=[3000], current_position=[-1], int_position=[1292], pts=[41344] 
[chain avformat-novalidate] /home/amiga/Downloads/Cropped.mp4
     WILD TIMESTAMP: pkt.pts=[41504], pkt.dts=[41344], req_position=[3000], current_position=[-1], int_position=[1297], pts=[41504] 
....
.....
int_position=[1998], pts=[63936] 
[chain avformat-novalidate] /home/amiga/Downloads/Cropped.mp4
     WILD TIMESTAMP: pkt.pts=[64000], pkt.dts=[63968], req_position=[3000], current_position=[-1], int_position=[2000], pts=[64000] 
[gif @ 0x7f7e40000f40] GIF muxer supports only a single video GIF stream.
[consumer avformat] Could not write header '/home/amiga/Downloads/Endless_MMS.gif'
[AVIOContext @ 0x7f7e4134fe40] Statistics: 0 bytes written, 0 seeks, 0 writeouts

[AVIOContext @ 0x56481b88d780] Statistics: 292017 bytes read, 0 seeks
[AVIOContext @ 0x56481b88b780] Statistics: 661193 bytes read, 1 seeks
Failed with exit code 1