Hi everyone! I have a single video file and I need to re-render it with Shotcut (I mean just open this single video with Shotcut and render it). So I want to export this original file, losing as less quality as possible, and get a similar file size to the original one. Is even possible to obtain same quality and size of the original?
I tried to render using the automatic settings that match the original one and just increase the quality on the codec tab to 100% but the final file size is like 4 times the original one and I don't get why!!!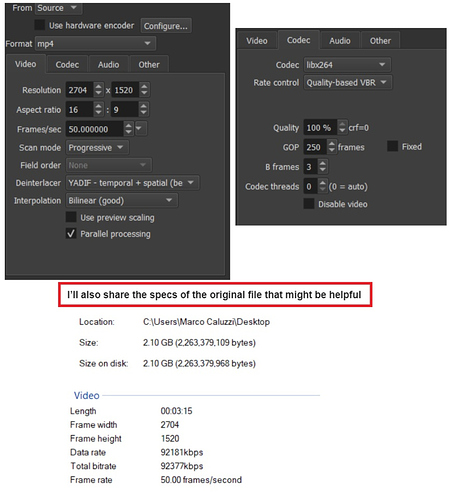 The original file (first render with the editing program) is an MP4 h.264.
Would it be a better solution to do the first render with the editing program in quicktime dnxhd and then do the second render of that video file with shotcut using MP4? I'm new to video editing so I have no idea
PS: if you're wondering why I'm trying to do so, it is because my editor has some bugs and generate artifacts on the final render. I found on the internet that rerendering the video with shotcut fixes the problem and it's true! but I want to keep quality and file size.