Hi there! First of all, I love Shotcut! It's an amazing piece of software for absolutely free! I've been using it for a few months now.
I started a music project this year, so I have been making short videos every day, usually it's just a simple screen record video (using Quicktime), then adding music to this, then exporting.
I always use these settings when I export:
default Quicktime Animation, H.264/AAC Mp4 file
1920 x 1080
16 : 9
30 fps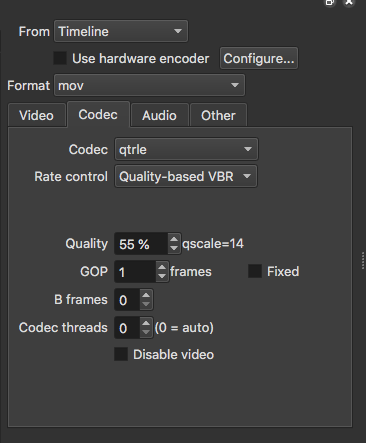 I don't know what a lot of that means, so I never change any of it.
Today I exported a 2m 30 seconds video, a screen record with audio. They're usually about 50 - 100MB max, but today's video exported and was 10GB.
Clearly some sort of glitch or something, but I didn't know what to do, so I deleted it and tried again.
Any idea what's going on here?
The only other issue: Sometimes when I am exporting a video, the Jobs read out, gets to 100%, then says "FAILED" and I get a pop on my Mac that says something about Qtime process failed and I have to restart the process. When it restarts it usually exports fine the second time. Is there anyway I can prevent this?
Oh! I get random crashes from the app, sometimes, when I move clips around in the timeline. Or if I do too much keyframe editing. Any solution for this?
Anyway, these are all just small gripes. It's a great app and I get a lot of usage out of it! Thanks again!
I'm using a mid-2010 27" iMac with High Sierra (10.13.6)