What is your operating system?
Windows 10 x64
What is your Shotcut version (see Help > About Shotcut)? Is it 32-bit?
22.06.23
Can you repeat the problem? If so, what are the steps?
Have some clips and a range marker in the timeline.
(all ripple buttons clicked)
Drag and drop an image from the playlist into the timeline, somewhere before the start of the marker.
All the markers to the right of dropped image seem to disappear but checking the .mlt file it seems they are pushed to the right by exactly 4h.
My theory: when double clicking an image even though it's actual duration is 2s (in my case, default) in the source player it shows it has a duration of 4h: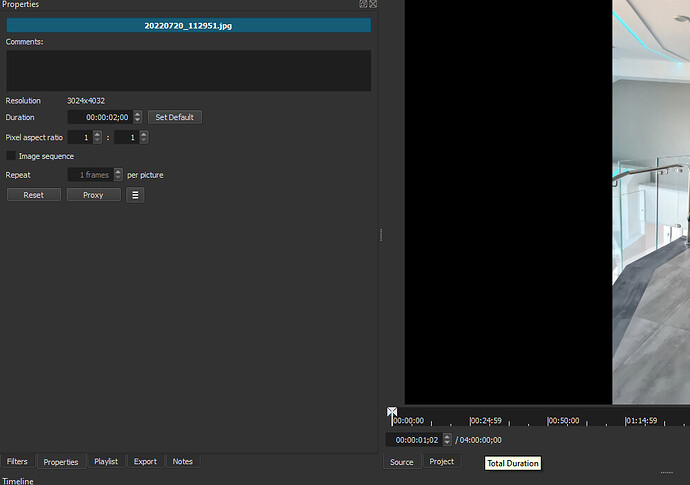 In mlt:
    <properties name="shotcut:markers">
      <properties name="0">
        <property name="text">benzinarie</property>
        <property name="start">00:00:09.576</property>
        <property name="end">00:01:04.538</property>
        <property name="color">#FF0000</property>
      </properties>
    </properties>

→
    <properties name="shotcut:markers">
      <properties name="0">
        <property name="text">benzinarie</property>
        <property name="start">04:00:09.576</property>
        <property name="end">04:01:04.538</property>
        <property name="color">#FF0000</property>
      </properties>
    </properties>