Due to timezones (mostly), when adding clips shot with different cameras they are not chronological in the playlist so I have to manually get through them either one by one or do some sort of "insertion sort" if one source has few clips.
I propose as there's already a "Set creation time" entry on right clicking a playlist item, to add the feature to the available options to choose something relative when having multiple entries selected. What I mean is in this menu: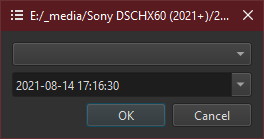 To add (or replace it altogether when multiple items are selected) a "Relative offset" drop down option and on the bottom area to be able to input "hh:mm:ss" (which will obviously be applied for each item, relative to it's own original creation date).
This would be massively helpful as I assume other users are also dealing with bad datetimes (both due to timezones and bad input time when setting cameras).